Posted by Xenor Vernix on Aug 06, 2010 - 12:14.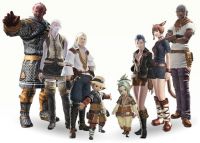 Square Enix have announced two Final Fantasy XIV CDs that are due to be released on September 29th in Japan. The CDs are called "Final Fantasy XIV - Field Tracks" and "Final Fantasy XIV - Battle Tracks" and are composed and produced by fan favourite Nobuo Uematsu.
The CDs will cost 1500 yen, which is around £11/€13/$17. There is currently no indication of a European or North American release. We're unsure whether a full OST will be released alongside these but it is usual for Final Fantasy games to have one.
Source:
Japanese Official Final Fantasy XIV Website
0 comments | |