Paladin (PLD) Abilities, Traits, Combos and Materia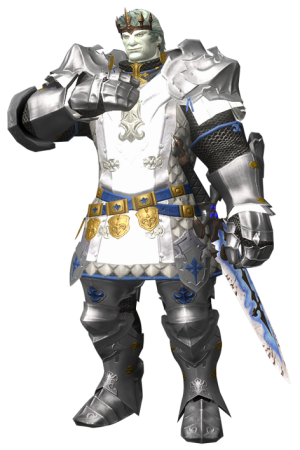 The elite of the Sultansworn bend the knee to the sultanate of Ul'dah, swearing a solemn oath to serve the nation as its sword and shield. Clad in brilliant silver armor and called paladins, these men and women were once the pride of the nation, held in high esteem by nobles and smallfolk alike.

But their glory days are no more, for as the sultanate's power waned, so too did the prestige of the paladin. They are now but a shadow of their former selves, and the sultana must needs turn to sellswords for protection.

In these troubled times, command of the Sultansworn has fallen to a young paladin named Jenlyns. Desperate to restore their honor, he has resorted to recruiting outsiders and training them in the legendary battle arts of the paladin, once a closely guarded secret.

Patch 1.21 saw the introduction of jobs to FFXIV, which allows you to become one of the traditional jobs from the FF series after completing a quest.
A
Gladiator
can become a Paladin by equipping the Soul of the Paladin item after completing the first quest. The details for this quest are below.
| | | | |
| --- | --- | --- | --- |
| Quest | NPC | Location | Conditions |
| Paladin's Pledge | Lulutsu | Ul'dah Merchant Strip, Gladiators' Guild (5,5) | GLA 30, CNJ 15 |
For each quest you complete, you will be rewarded with a new ability, while the latter quests will also reward you with artifact (AF) armour that is shown in the screenshot above. Below is a list of abilities that the
Paladin
job can equip to their bar and select to use at any time as long as their timer is available.
Abilities
Abilities are actions that the
Paladin
can equip to their bar and select to use at any time as long as their timer is available. Actions used in a combo will generate additional damage and effects. All Paladin actions are exclusive to that job.
Name
Level
Cast
Recast
MP
TP
Cover
30
0
60
0
0
Redirects a melee attack against target party member to you. Target must be within 8 yalms.
Divine Veil
35
0
120
0
0
Cure and Cura spells cast on you by other players grant a healing over time effect to all party members within range.
Holy Succor
40
2
10
280
0
Restores HP of target. When cast on another player, you also heal 50% of the amount restored.
Spirits Within
45
0
120
0
3000
Delivers a melee attack at close range.


Combo Action: Phalanx
Increased damage with greater current HP.

Hallowed Ground
50
0
900
0
0
Renders you impervious to most attacks.
Combos
The Paladin job has the following combos which can be executed. These will give extra damage and effects.
Fast Blade
>
Savage Blade
Fast Blade
>
Flat Blade
Riot Blade
>
Rage of Halone
Savage Blade
>
Goring Blade
Phalanx
>
Spirits Within
Fast Blade
>
Savage Blade
>
Goring Blade
Materia Selection
To get the most out of your
Paladin
, you should aim to maximise their stats through
using materia
that best benefits the job. A paladin's main attributes are
STR
and
MND
, but you may wish to focus on
VIT
too for more HP and defence. Below is a list of materia that we recommend you aim for.