Leatherworker (LTW) Crafting Abilities and Materia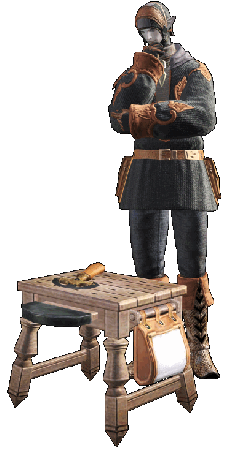 Contrary to popular belief, a leatherworker's skills are not limited to the mere boiling and dying of pelts and skins, but also encompass those of an armourer and clothier, for a true leatherworker would never entrust his hides to the hands of another. Perhaps a leatherworker's most arduous and time–consuming task is procuring the various coats and furs necessary for his trade, which is the reason why many who choose this profession tend to dabble in hunting and trapping as well.

The Elezen have long been known for their skill in leathercrafting, yet for centuries their techniques were heavily guarded. However, when dwindling numbers of guildmasters were threatened with the disappearance of their immense wealth of compiled knowledge, Elezen leatherworkers set aside pride and reluctantly began revealing those techniques to a select few. As a result, the quality of Eorzean–made leather improved significantly, creating an increased demand for products using the superior–quality material.
Below is a list of abilities for the Leatherworker class up to level 50. All of the Leatherworker's abilities use 0 MP or TP and have 0 cast time.
Abilities
While Leatherworkers can equip up to 10 abilities to their bar, only 5 will appear during the
crafting
process and these will be chosen at random when the process starts. It may work out better for you to only equip the best 5 for
Leatherworker crafting
.
As none of the DoH abilities are exclusive to any specific class it is worth
levelling up
other DoH classes so that you can get better abilities.
DoH: Alchemist | Armorer | Blacksmith | Carpenter | Culinarian | Goldsmith | Leatherworker | Weaver
Name
Level
Cast
Recast
Requires
Stone Throw
1
0
5
Discipline of Hand or Land
Throw a rock at an enemy.
Wrist Flick
10
0
30
Discipline of Hand or Land
Hurl with great force, causing your next thrown stone to stun the target.
Fulfillment
10
0
0
Discipline of Hand
Ensures great success of standard synthesis for the next step.
Hasty Hand
15
0
0
Discipline of Hand
Instantly completes synthesis when successful, but worsens results of failure. Adequate skill guarantees success.
Brand of Earth
20
0
0
Discipline of Hand
Ends elemental instAction and increases quality. Effect is increased when the element stabilized is earth.
Bold Endeavor
30
0
0
Discipline of Hand
Ensures success of all types of synthesis for the next step.
Inner Quiet
30
0
0
Discipline of Hand
Increases quality by 100% for the next step.
Clean Slate
36
0
0
Discipline of Hand
Resets progress, quality, and material durability to beginning values.
Determination
45
0
0
Discipline of Hand
Increases progress by 150% for the next step.
Materia Selection
To get the most out of your
Leatherworker
, you should aim to maximise their stats through
using materia
that best benefits the class. A leatherworker's main attributes are
VIT
and
INT
, so focusing on these will be beneficial. Below is a list of materia that we recommend you aim for.
DoH: Alchemist | Armorer | Blacksmith | Carpenter | Culinarian | Goldsmith | Leatherworker | Weaver