If you are looking for THE FASTEST WAY to reach the level cap with any class or job, this FFXIV Leveling Guide by Killer Guides is a definite must have! There is nothing that comes even close in regards to level of detail and overall quality.
[Advertisement]
FFXIV: A Realm Reborn Release Date
FFXIV: A Realm Reborn will be released worldwide on PC and PS3 on
August 27th 2013
. Those pre-ordering the game and those who have obtained
legacy status
will be eligible for an early access, which will mean the game is playable before the release date. When this begins is currently unknown but it is thought to be up to a week before the launch date.
The PS3 version will feature its own user interface designed specifically for a controller, though it is possible to use this on the PC too if you wish. At E3 2013 it was announced that FFXIV: ARR will be released on the PS4 and the date has been set for April 14th 2014. Players who own a copy of the PS3 version will be able to upgrade to the PS4 version for free. At some point in the future there will be a DirectX 11 upgrade for PC players. It has also been mentioned that there is a touch based user interface in the works designed for tablets and Windows 8 based devices.
Pre-ordering FFXIV: ARR
There is no need to buy this game if you already own a copy of 1.0 as you will be eligible for a free digital download copy of the game. If this is not the case then you are best off
pre-ordering
because this comes with bonuses. The bonuses you receive for pre-ordering FFXIV: A Realm Reborn are shown below.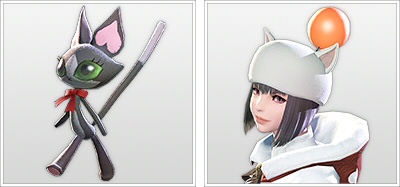 From left to right: Cait Sith minion, Mog Cap.
The minion is a little pet that will follow you around. It's there for show mainly and will have no other purpose. There are many of these minions in the game and some will be rarer than others. There is also a minion for purchasing the collector's edition, which can be seen further down the page.
Collector's Edition
The
collector's edition
of FFXIV: A Realm Reborn comes with lots of extra goodies, both physical and in-game. We feel this collector's edition is even better than the one which came with 1.0. The game itself comes in a special box with artwork designed by Yoshitaka Amano. Inside you can find the following: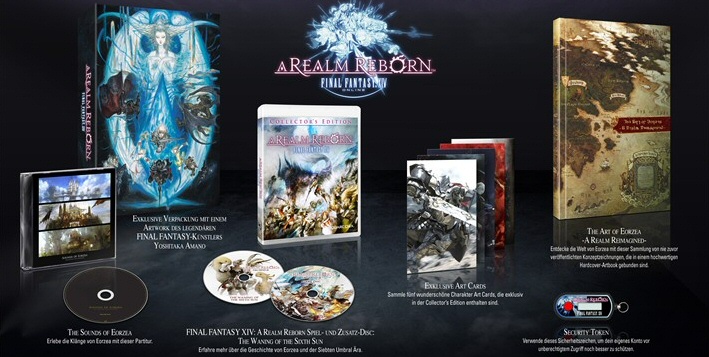 From left to right: Special soundtrack featuring city and field music, Box art, Seventh Umbral Era Special Movie Disc, 5 piece art card set, art book, security token.
As well as these there are also a number of digital items available. These items will be available to those who purchased the 1.0 Collector's Edition without having to purchase the new one.
From left to right: Helm of light, Coeurl mount, Behemoth barding, Baby Behemoth minion.
If you didn't know already then this game has more than just the chocobo mount in it. There's also the goobbue mount and a magitek mount in the works. With the collector's edition you get a coeurl mount. You also get some Behemoth barding (armor) for your chocobo. A baby Behemoth minion and Helm of Light are also bundled with this edition.
The PS4 version will contain extra items; bringing with it the
Fat Chocobo mount
and Wind Up Moogle minion. Both of these items will also be available for players who own PC or PS3 collector's editions, almost certainly distributed via the in-game mailing system.
FFXIV v1.0 Release Date
FFXIV was released worldwide on the PC on September 30th 2010, with the PS3 version eventually being delayed indefinitely. The PS3 version of FFXIV v1.0 was never actually released in the end. People purchasing the PC collector's edition were able to play from September 22nd 2010.
The collectors edition of the game came with the following items: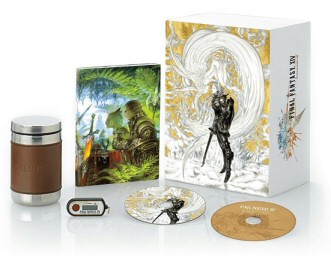 * 6 days early access to the servers
* 30 day free trial period
* Behind the scenes DVD
* Security Token
* FFXIV tumbler
* Map of Eorzea
* Travel Journal featuring concept art
* A special pass allowing a friend to play for a short period of time
* Onion Helm in-game item
Players who received FFXIII campaign codes were able to obtain an item called Asuran Armguards, which improves the effectiveness of tools.