Culinarian (CUL) Crafting Abilities and Materia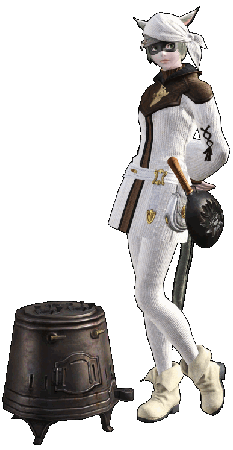 Whetting appetites from dawn until dusk with prowess of pot and pan, culinarians provide more than simple sustenance. Armed with a cornucopia of ingredients from across the realm, and versed in methods from the far corners of Hydaelyn, these master chefs help adventurers maintain their strength on the battlefield, bringing truth to the age-old adage that the road to victory truly does run through one's stomach.

Although an established trade far before recorded history, it wasn't until half a century ago when Limsa Lominsan admiral and self-proclaimed gourmand, Guolskyf Bhaldwaensyn, known by the masses as "Mastcleaver," put forth a thalassocratic decree proclaiming the culinary arts a guildworthy craft. Henceforth, it has been recognized across Eorzea as a legitimate member of the Tradescraft Society—its recipe compendiums now grace the shelves of every librarium in the realm.
Below is a list of abilities for the Culinarian class up to level 50. All of the Culinarian's abilities use 0 MP or TP and have 0 cast time.
Abilities
While Culinarians can equip up to 10 abilities to their bar, only 5 will appear during the
crafting
process and these will be chosen at random when the process starts. It may work out better for you to only equip the best 5 for
Culinarian crafting
.
As none of the DoH abilities are exclusive to any specific class it is worth
levelling up
other DoH classes so that you can get better abilities.
DoH: Alchemist | Armorer | Blacksmith | Carpenter | Culinarian | Goldsmith | Leatherworker | Weaver
Name
Level
Cast
Recast
Requires
Stone Throw
1
0
5
Discipline of Hand or Land
Throw a rock at an enemy.
Wrist Flick
10
0
30
Discipline of Hand or Land
Hurl with great force, causing your next thrown stone to stun the target.
Make the Most
10
0
0
Discipline of Hand
Slightly restores durability.
Hasty Hand
15
0
0
Discipline of Hand
Instantly completes synthesis when successful, but worsens results of failure. Adequate skill guarantees success.
Brand of Water
20
0
0
Discipline of Hand
Ends elemental instAction and increases quality. Effect is increased when the element stabilized is water.
Life's Purpose
30
0
0
Discipline of Hand
Ensures success of all types of synthesis for the next step.
Waste Not
30
0
0
Discipline of Hand
Reduces loss of durability by 100% for the next step.
Elemental Appeal
36
0
0
Discipline of Hand
Prevents onset or worsening of elemental instAction for the next three step. Maintains white glow.
Heart and Soul
36
0
0
Discipline of Hand
Increases quality by 125% for the next step.
Magnum Opus
45
0
0
Discipline of Hand
Increases quality by 150% for the next step when used during prismatic glow.
Materia Selection
To get the most out of your
Culinarian
, you should aim to maximise their stats through
using materia
that best benefits the class. A culinarian's main attributes are
MND
and
PIE
, so focusing on these will be beneficial. Below is a list of materia that we recommend you aim for.
DoH: Alchemist | Armorer | Blacksmith | Carpenter | Culinarian | Goldsmith | Leatherworker | Weaver