White Mage (WHM) Abilities, Traits, Combos and Materia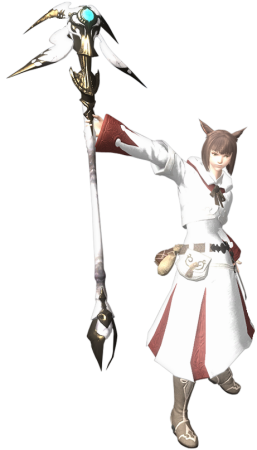 While it is commonly known that Gridania's leaders, the three Seedseer siblings, are unsurpassed in their mastery of conjury, none save a few souls are aware that they are also keepers of white magic, the arcane art of succor.
Taking healing and protection for its dominion, white magic came into existence eras past in order that the destructive force of black magic be kept in check and balance preserved.

Over time, however, even those who donned the white came to pervert their powers for the sake of personal gain, a decaying of virtue that led to the demise of the men of the Fifth Astral Era.

Though thought to have become buried in the sands of history, white magic is in the midst of revival at the hands of the Padjal, who desire that the light of succor shine throughout Eorzea.

Patch 1.21 saw the introduction of jobs to FFXIV, which allows you to become one of the traditional jobs from the FF series after completing a quest.
A
Conjurer
can become a White Mage by equipping the Soul of the White Mage item after completing the first quest. The details for this quest are below.
| | | | |
| --- | --- | --- | --- |
| Quest | NPC | Location | Conditions |
| Seeds of Initiative | Soileine | Gridania, Conjurers' Guild (2,1) | CNJ 30, GLA 15 |
For each quest you complete, you will be rewarded with a new ability, while the latter quests will also reward you with artifact (AF) armour that is shown in the screenshot above. Below is a list of abilities that the
White Mage
job can equip to their bar and select to use at any time as long as their timer is available.
Abilities
Abilities are actions that the
White Mage
can equip to their bar and select to use at any time as long as their timer is available. Actions used in a combo will generate additional damage and effects. All White Mage actions are exclusive to that job.
Name
Level
Cast
Recast
MP
TP
Presence of Mind
30
0
300
0
0
Removes cast time and recast time of next spell.
Regen
35
2
5
56
0
Grants healing over time effect to target.
Esuna
40
2
10
112
0
Removes all enfeebling effects from target.
Holy
45
0
300
280
0
Consumes all MP to deal damage to enemies in range. Chance to inflict Bind.
Benediction
50
0
900
0
0
Restores HP of all party members within range.
Combos
The White Mage job has the following combos which can be executed. These will give extra damage and effects.
Stone
>
Stonera
Aero
>
Aeroa
Materia Selection
To get the most out of your
White Mage
, you should aim to maximise their stats through
using materia
that best benefits the job. A white-mage's main attributes are
MND
and
PIE
, so focusing on these will be beneficial. Below is a list of materia that we recommend you aim for.