White Mage (WHM) Abilities, Traits and Cross Class Skills
If you are looking for THE FASTEST WAY to reach the level cap with any class or job, this FFXIV Leveling Guide by Killer Guides is a definite must have! There is nothing that comes even close in regards to level of detail and overall quality.
[Advertisement]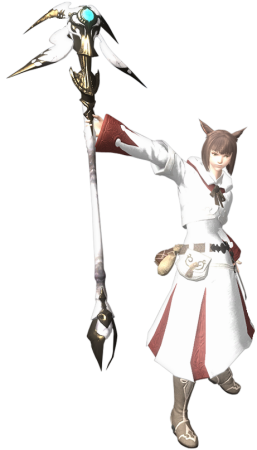 While it is commonly known that Gridania's leaders, the three Seedseer siblings, are unsurpassed in their mastery of conjury, none save a few souls are aware that they are also keepers of white magic, the arcane art of succor.
Taking healing and protection for its dominion, white magic came into existence eras past in order that the destructive force of black magic be kept in check and balance preserved.

Over time, however, even those who donned the white came to pervert their powers for the sake of personal gain, a decaying of virtue that led to the demise of the men of the Fifth Astral Era.

Though thought to have become buried in the sands of history, white magic is in the midst of revival at the hands of the Padjal, who desire that the light of succor shine throughout Eorzea.

Patch 1.21 saw the introduction of jobs to FFXIV, which allows you to become one of the traditional jobs from the FF series after completing a quest.
A
Conjurer
can become a White Mage by equipping the Soul of the White Mage item after completing the first quest. The details for this quest are below.
| | | | |
| --- | --- | --- | --- |
| Quest | NPC | Location | Conditions |
| Seeds of Initiative | Soileine | Gridania, Conjurers' Guild | CNJ 30, ACN 15 |
* Quest giver/name may be incorrect (1.23 info), conditions have been updated for ARR.
For each quest you complete, you will be rewarded with a new ability, while the latter quests will also reward you with artifact (AF) armour that is shown in the screenshot above. Below is a list of abilities that the
White Mage
job can equip to their bar and select to use at any time as long as their timer is available.
As a White Mage you should be focusing on
MND
as this increases healing magic potency.
PIE
may also be useful if you are having MP issues. For more info on how to play White Mage see our
White Mage Guide
.
Abilities
Abilities are actions that the
White Mage
can equip to their bar and select to use at any time as long as their timer is available. Actions used in a combo will generate additional damage and effects. All White Mage actions are exclusive to that job. MP scales with level and the MP values listed below are based on a level 50 character.
Name
Level
Cast
Recast
MP
TP
Range
Radius
Presence Of Mind
30
0
300
0
0
0y
0y
Increases spell speed.
Duration: 10s
Regen
35
0
2.5
319
0
30y
0y
Grants healing over time effect to target.
Cure Potency: 150 Duration: 21s
Divine Seal
40
0
60
0
0
0y
0y
Increases cure magic potency by 30%.
Duration: 15s
Holy
45
3
3.5
532
0
0y
8y
Delivers a magic attack with a potency of 200 to all nearby enemies.
Additional Effect: Stun Duration: 4s
Benediction
50
0
300
0
0
30y
0y
Restores all of a target's HP.
As well as these the White Mage can also equip Conjurer abilities.
Cross Class Abilities
In FFXIV: A Realm Reborn it is possible to use some abilities from other classes providing you have unlocked them on that class. You can then equip them on your White Mage no matter what your level.
Name
Level
Cast
Recast
MP
TP
Range
Radius
Class From
Ruin
1
2.5
2.5
5
0
25y
0y
ACN
Deals unaspected damage with a potency of 80.
Physick
4
2
2.5
9
0
30y
0y
ACN
Restores target's HP. Cure Potency: 400
Surecast
8
0
30
0
0
0y
0y
THM
Next spell is cast without interruption. Duration: 10s
Additional Effect: 15% chance Surecast will have no recast time (Level 16+)
Virus
12
0
90
0
0
25y
0y
ACN
Reduces target's STR, DEX, INT, and MND by 15%. Duration: 10s
Grants target immunity to the same effect for 1 minute after effect ends.
Blizzard II
12
2
2.5
212
0
0y
5y
THM
Deals ice damage with a potency of 50 to all nearby enemies.
Additional Effect: Bind Duration: 8s
Additional Effect: Grants Umbral Ice II or removes Astral Fire Duration: 10s
Swiftcast
26
0
180
0
0
0y
0y
THM
Next spell is cast immediately. Duration: 10s
Eye for an Eye
34
0
180
0
0
25y
0y
ACN
Erects a magicked barrier arround a single party member or pet. Duration: 30s
Barrier Effect: 20% chance that when barrier is struck, the striker will deal 10% less damage. Duration: 20s
PvP Actions & Traits
PVP actions and traits are skills which can only be used in PvP battles. They can be purchased using Action Points (AP), which is earned via fightng in PvP battles. In general there are three potencies of each action and you can upgrade them by spending more AP on them. For more on PvP, visit our
PvP pages
. For a White Mage we recommend you go for Mind with the traits.