Black Mage (BLM) Abilities, Traits and Cross Class Skills
If you are looking for THE FASTEST WAY to reach the level cap with any class or job within 7 days, this FFXIV Leveling Guide by Killer Guides is a definite must have! It comes with step-by-step leveling tips, quest walkthroughs, detailed primal battle strategies, extensive dungeon guides, and more.
[Advertisement]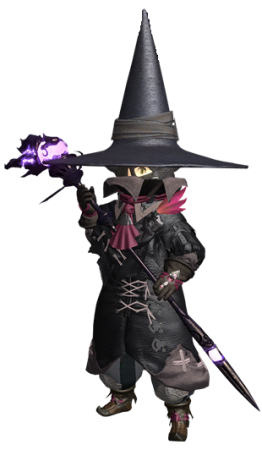 In days long past there existed an occult and arcane art known as black magic? A potent magic of pure destructive force which legend told was born forth by a sorceress of unparalleled power.
Those who learned to wield this instrument of ruin came to be called black mages, out of both fear and respect for their gift. Yet then, as now, great power served to corrupt the judgment of mortal man and send him down the path of ruin.

And so it is that now, after many years, there are few left versed in the ways of black magic. Yet an old criminal soul, condemned to life in the dark depths of an Ul'dahn prison, has come forth claiming to be one of the last remaining black mages. He has emerged from his shadowy confinement...but to what end?

Patch 1.21 saw the introduction of jobs to FFXIV, which allows you to become one of the traditional jobs from the FF series after completing a quest.
A
Thaumaturge
can become a Black Mage by equipping the Soul of the Black Mage item after completing the first quest. The details for this quest are below.
| | | | |
| --- | --- | --- | --- |
| Quest | NPC | Location | Conditions |
| Taking the Black | Yayake | Ul'dah Merchant Strip, Thaumaturges' Guild | THM 30, ARC 15 |
For each quest you complete, you will be rewarded with a new ability, while the latter quests will also reward you with artifact (AF) armour that is shown in the screenshot above. Below is a list of abilities that the
Black Mage
job can equip to their bar and select to use at any time as long as their timer is available.
As a Black Mage you should be focusing on
INT
as this increases magic attack power. For more info on how to play Black Mage see our
Black Mage Guide
.
Abilities
Abilities are actions that the
Black Mage
can equip to their bar and select to use at any time as long as their timer is available. Actions used in a combo will generate additional damage and effects. All Black Mage actions are exclusive to that job. MP scales with level and the MP values listed below are based on a level 50 character.
AST
BRD
BLM
DRG
DRK
PLD
MCH
MNK
NIN
SCH
SMN
WAR
WHM
Name
Level
Cast
Recast
MP
TP
Range
Radius
Convert
30
0
180
0
0
0y
0y
Sacrifices 20% of maximum HP to restore 30% of MP.
Cannot be executed when current HP is lower than 20%.
Freeze
35
3
2.5
1768
0
25y
5y
Covers a designated area in ice, dealing ice damage with a potency of 100 and binding enemies that enter.
Duration: 15s
Additional Effect: Grants Umbral Ice or removes Astral Fire
Duration: 10s
Apocatastasis
40
0
180
0
0
30y
0y
Reduces a Disciple of War or Magic party member's magic vulnerability by 20%.
Duration: 12s
Cannot be reused on an individual for 60 seconds from when the effect wears off. Cannot be cast on self.
Manawall
45
0
120
0
0
0y
0y
Creates a barrier that nullifies physical damage up to 20% of maximum HP. Duration: 20s
Flare
50
4
2.5
ALL
0
25y
5y
Deals fire damage to a target and enemies near it with a potency of 260 for the first enemy. 10% less for the second, 20% less for the third, 30% less for the fourth, 40% less for the fifth, and 50% less for all remaining enemies.
Additional Effect: Grants Astral Fire III or removes Umbral Ice Duration: 10s
Ley Lines
52
0
90
0
0
0y
7y
Connects naturally occurring ley lines to create a circle of power which, while standing within it, increases attack speed by 15%. Circle fades upon leaving it.
Sharpcast
54
0
60
0
0
0y
0y
Ensures that the next Scathe, Fire, or Thunder spell cast will trigger all additional effects of the respective spell.
Enochian
56
0
60
0
0
0y
0y
Increases magic damage dealt by 5%. Also allows the casting of Blizzard IV and Fire IV.
Blizzard IV
58
3
2.5
884
0
25y
0y
Deals ice damage with a potency of 280. Can only be executed while under the effects of both Enochian and Umbral Ice. Additional Effect: Enochian
Fire IV
60
3
2.5
884
0
25y
0y
Deals fire damage with a potency of 280. Can only be executed while under the effects of both Enochian and Astral Fire.
As well as these the Black Mage can also equip
Thaumaturge
abilities.
Cross Class Abilities
In FFXIV: A Realm Reborn it is possible to use some abilities from other classes providing you have unlocked them on that class. You can then equip them on your Black Mage no matter what your level.
Name
Level
Cast
Recast
MP
TP
Range
Radius
Class From
Ruin
1
2.5
2.5
177
0
25y
0y
ACN
Deals unaspected damage with a potency of 80.
Physick
4
2
2.5
442
0
30y
0y
ACN
Restores target's HP. Cure Potency: 400
Raging Strikes
4
0
180
0
0
0y
0y
ARC
Increasesdamage dealt by 20%
Duration: 20s
Virus
12
0
90
0
0
25y
0y
ACN
Reduces target's STR, DEX, INT, and MND by 15%. Duration: 10s
Grants target immunity to the same effect for 1 minute after effect ends.
Hawk's Eye
26
0
90
0
0
0y
20y
ARC
Increases DEX by 15% and guarantees that all attacks land.
Duration: 20s
Eye for an Eye
34
0
180
0
0
25y
0y
ACN
Erects a magicked barrier arround a single party member or pet. Duration: 30s
Barrier Effect: 20% chance that when barrier is struck, the striker will deal 10% less damage. Duration: 20s
Quelling Strikes
34
0
120
0
0
0y
0y
ARC
Reduces enmity generated by each attack.
Duration: 15s
PvP Actions & Traits
PVP actions and traits are skills which can only be used in PvP battles. They can be purchased using Action Points (AP), which is earned via fightng in PvP battles. In general there are three potencies of each action and you can upgrade them by spending more AP on them. For more on PvP, visit our
PvP pages
.
AST
BRD
BLM
DRG
DRK
PLD
MCH
MNK
NIN
SCH
SMN
WAR
WHM