Black Mage (BLM) Abilities, Traits, Combos and Materia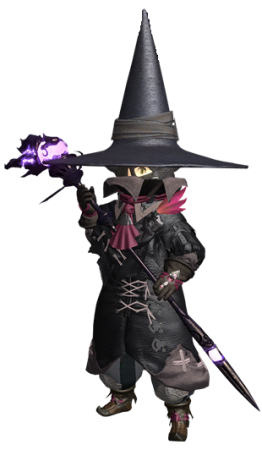 In days long past there existed an occult and arcane art known as black magic?a potent magic of pure destructive force which legend told was born forth by a sorceress of unparalleled power.
Those who learned to wield this instrument of ruin came to be called black mages, out of both fear and respect for their gift. Yet then, as now, great power served to corrupt the judgment of mortal man and send him down the path of ruin.

And so it is that now, after many years, there are few left versed in the ways of black magic. Yet an old criminal soul, condemned to life in the dark depths of an Ul'dahn prison, has come forth claiming to be one of the last remaining black mages. He has emerged from his shadowy confinement...but to what end?

Patch 1.21 saw the introduction of jobs to FFXIV, which allows you to become one of the traditional jobs from the FF series after completing a quest.
A
Thaumaturge
can become a Black Mage by equipping the Soul of the Black Mage item after completing the first quest. The details for this quest are below.
| | | | |
| --- | --- | --- | --- |
| Quest | NPC | Location | Conditions |
| Hearing Voices | Yayake | Ul'dah Merchant Strip, Thaumaturges' Guild (4,5) | THM 30, PGL 15 |
For each quest you complete, you will be rewarded with a new ability, while the latter quests will also reward you with artifact (AF) armour that is shown in the screenshot above. Below is a list of abilities that the
Black Mage
job can equip to their bar and select to use at any time as long as their timer is available.
Abilities
Abilities are actions that the
Black Mage
can equip to their bar and select to use at any time as long as their timer is available. Actions used in a combo will generate additional damage and effects. All Black Mage actions are exclusive to that job.
Name
Level
Cast
Recast
MP
TP
Convert
30
0
450
0
0
Switches current HP and MP values.
Freeze
35
5
120
336
0
Deals ice damage. Reduces enmity.
Flare
40
8
120
560
0
Deals fire damage to enemies in range. Damage dealt increases with proximity. Chance to inflict damage over time effect.
Sleepga
45
4
0
280
0
Puts target and enemies near it to sleep.
Burst
50
4
900
252
0
Deals lightning damage.


Combo Action: Thundara
Combo Bonus: Increased damage with lesser current HP.
Combos
The Black Mage job has the following combos which can be executed. These will give extra damage and effects.
Thunder
>
Thundara
Fire
>
Fira
Thundara
>
Burst
Thunder
>
Thundara
>
Thundaga
Fire
>
Fira
>
Firaga
Thunder
>
Thundara
>
Burst
Materia Selection
To get the most out of your
Black Mage
, you should aim to maximise their stats through
using materia
that best benefits the job. A black-mage's main attributes are
INT
and
PIE
, however
MND
is also useful for magic accuracy. Focusing on these stats will be beneficial. Below is a list of materia that we recommend you aim for.