Dragoon (DRG) Abilities, Traits and Cross Class Skills
If you are looking for THE FASTEST WAY to reach the level cap with any class or job, this FFXIV Leveling Guide by Killer Guides is a definite must have! There is nothing that comes even close in regards to level of detail and overall quality.
[Advertisement]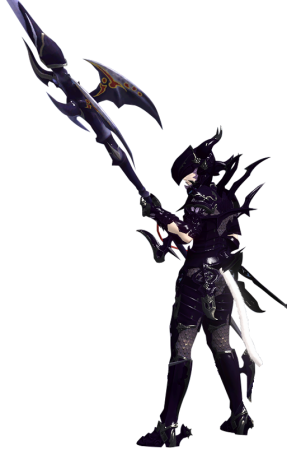 Legend holds that the dragoon tradition was born a millennium past, when the founding fathers of the great nation of Ishgard were journeying to the land promised them by the Fury. Upon arriving in Coerthas, the intrepid settlers were set upon by the great wyrm Nidhogg, the then master of that demesne, and a fierce struggle ensued.
The confrontation came to an end when a young man named Haldrath, taking up his slain sire's lance, landed a mighty thrust that prized out Nidhogg's eye, prompting his colossal adversary to take wing and flee.
From that moment forth, Haldrath became known by the epithet of the Dragonseye, and is to this day revered by all Ishgardians as the first dragoon.
Patch 1.21 saw the introduction of jobs to FFXIV, which allows you to become one of the traditional jobs from the FF series after completing a quest. A
Lancer
can become a Dragoon by equipping the Soul of the Dragoon item after completing the first quest. The details for this quest are below.
| | | | |
| --- | --- | --- | --- |
| Quest | NPC | Location | Conditions |
| Eye of the Dragon | Haurtefert | Gridania, Lancers' Guild | LNC 30, MRD 15 |
* Quest giver/name may be incorrect (1.23 info), conditions have been updated for ARR.
For each quest you complete, you will be rewarded with a new ability, while the latter quests will also reward you with artifact (AF) armour that is shown in the screenshot above. Below is a list of abilities that the
Dragoon
job can equip to their bar and select to use at any time as long as their timer is available.
As a Dragoon you should be focusing on
STR
as this increases melee attack power. For more info on how to play Dragoon see our
Dragoon Guide
.
Abilities
Abilities are actions that the
Dragoon
can equip to their bar and select to use at any time as long as their timer is available. Actions used in a combo will generate additional damage and effects. All Dragoon actions are exclusive to that job.
Name
Level
Cast
Recast
MP
TP
Range
Radius
Jump
30
0
40
0
0
20y
0y
Delivers a jumping attack with a potency of 200. Returns you to your original position after the attack is made. Cannot be executed while bound.
Elusive Jump
35
0
180
0
0
15y
0y
Executes a jump to a location 15 yalms behind you, while removing any Heavy or Bind effects.
Additional Effect: Reduces enmity.
Spineshatter Dive
40
0
90
0
0
20y
0y
Delivers a jumping attack with a potency of 170.
Additional Effect: Stun Duration: 2s
Cannot be executed while bound.
Power Surge
45
0
90
0
0
0y
0y
Increases the damage dealt by a single Jump or Spineshatter Dive by 50%. Duration: 10s
Dragonfire Dive
50
0
300
0
0
20y
5y
Delivers a jumping fire-based attack with a potency of 250 to all nearby enemies. Cannot be executed while bound.
As well as these the Dragoon can also equip Lancer abilities.
Cross Class Abilities
In FFXIV: A Realm Reborn it is possible to use some abilities from other classes providing you have unlocked them on that class. You can then equip them on your Dragoon no matter what your level.
Name
Level
Cast
Recast
MP
TP
Range
Radius
Class From
Foresight
2
0
90
0
0
0y
0y
MRD
Increase defense by 20%. Duration: 20s
Skull Sunder
4
0
2.5
0
60
3y
0y
MRD
Delivers an attack with a potency of 100.
Additional Effect: Increased enmity.


Combo Action: Heavy Swing
Combo Potency: 200
Grants Wrath when used with Defiance. Duration: 30s

Featherfoot
4
0
90
0
0
0y
0y
PGL
Increases evasion by 25%. Duration: 10s (Effect 15% below level 14)
Fracture
6
0
2.5
0
80
3y
0y
MRD
Delivers an attack with a potency of 100.
Additional Effect: Damage over time.
Potency: 20
Duration 30s (Duration 18s below level 28)
Bloodbath
8
0
90
0
0
0y
0y
MRD
Converts 25% of physical damage dealt into HP.
Duration: 30s (Duration 15s below level 20)
Second Wind
8
0
120
0
0
0y
0y
PGL
Instantly restores own HP. Cure Potency 650. Cure potency varies with current attack power.
Haymaker
10
0
2.5
0
40
3y
0y
PGL
Delivers an attack with a potency of 170. Can only be used immediately after evading an attack.
Additional Effect: Slow +20%.
Duration 12s
Internal Release
12
0
60
0
0
0y
0y
PGL
Increases critical hit rate by 30%. Duration 15s (Effect 20% below level 36)
Mercy Stroke
26
0
90
0
0
3y
0y
MRD
Delivers an attack with a potency of 200. Can only be executed when target's HP is below 20%.
If delivered as the killing blow, up to 20% of your maximum HP will be restored.
Mantra
42
0
120
0
0
25y
0y
PGL
Increases HP recovery via curing magic by 20% for self and nearby party members. Duration: 15s. (Effect 10% below level 48)