Monk (MNK) Abilities, Traits, Combos and Cross Class Skills
If you are looking for THE FASTEST WAY to reach the level cap with any class or job, this FFXIV Leveling Guide by Killer Guides is a definite must have! There is nothing that comes even close in regards to level of detail and overall quality.
[Advertisement]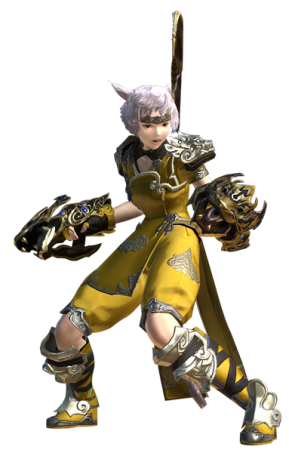 Though now under Garlean rule, the fortified city-state of Ala Mhigo once claimed dominion over the lands of Gyr Abania and boasted the greatest military might of all Eorzea. Among its standing armies were the monks?ascetic warriors dreaded by foes on the field of battle as much as the Ala Mhigan pikemen.
The monks comprised an order known as the Fist of Rhalgr, and it was to this god?the Destroyer and guardian deity of Ala Mhigo to whom they devoted their lives of fervent worship.
In their remote mountain temples, the monkhood underwent rigorous training of both mind and body, ever seeking to draw closer to the godhead of Rhalgr himself. Over the long course of its esoteric tradition, the Fist has developed a deadly and destructive martial art.
Patch 1.21 saw the introduction of jobs to FFXIV, which allows you to become one of the traditional jobs from the FF series after completing a quest. A
Pugilist
can become a Monk by equipping the Soul of the Monk item after completing the first quest. The details for this quest are below.
Quest
NPC
Location
Conditions
Brother from Another Mother
Gagaruna
Ul'dah Merchant Strip,
Pugilists' Guild
PGL 30, LNC 15
* Quest giver/name may be incorrect (1.23 info), conditions have been updated for ARR.
For each quest you complete, you will be rewarded with a new ability, while the latter quests will also reward you with artifact (AF) armour that is shown in the screenshot above. Below is a list of abilities that the
Monk
job can equip to their bar and select to use at any time as long as their timer is available.
As a Monk you should be focusing on
STR
as this increases melee attack power. For more info on how to play Monk see our
Monk Guide
.
Abilities
Abilities are actions that the
Monk
can equip to their bar and select to use at any time as long as their timer is available. Actions used in a combo will generate additional damage and effects. All Monk actions are exclusive to that job.
Name
Level
Cast
Recast
MP
TP
Range
Radius
Rockbreaker
30
0
2.5
0
120
5y
5y
Delivers an attack with a potency of 130 to all enemies in a cone before you.
Duration: 18s
Can only be used when in coeurl form.
Additional Effect: Changes form to opo-opo
Duration: 10s
Additional Effect: Grants Greased Lightning
Duration: 12s
Greased Lightning Bonus: Increases damage dealt by 7% and attack speed by 5%
Shoulder Tackle
35
0
90
0
0
20y
0y
Rushes target and delivers an attack with a potency of 100. Must be more than 10 yalms from target to execute.
Additional Effect: Stun
Duration: 2s
Cannot be executed while bound.
Fists Of Fire
40
0
3
0
120
0y
0y
Increases damage dealt by 5%.
Cannot be used with Fists of Earth or Fists of Wind, and shares recast timer with both.
Effect ends upon reuse.
One Ilm Punch
45
0
2.5
0
0
3y
0y
Delivers an attack with a potency of 80. Can only be used when in raptor form.
Additional Effect: Removes one beneficial status from target
Additional Effect: Changes form to coeurl
Duration: 10s
Dragon Kick
50
0
2.5
0
60
3y
0y
Delivers an attack with a potency of 100.
150 when delivered from a target's flank.
Opo-opo Form Bonus: Reduces target's blunt resistance by 10% Duration: 15s
Additional Effect: Changes form to raptor
Duration: 10s
As well as these the Monk can also equip Pugilist abilities.
Cross Class Abilities
In FFXIV: A Realm Reborn it is possible to use some abilities from other classes providing you have unlocked them on that class. You can then equip them on your Monk no matter what your level.
Name
Level
Cast
Recast
MP
TP
Range
Radius
Class From
Feint
2
0
2.5
0
80
3y
0y
LNC
Delivers an attack with a potency of 120.
Additional Effect: Slow +20%.
Duration 10s
Foresight
2
0
90
0
0
0y
0y
MRD
Increase defense by 20%. Duration: 20s
Skull Sunder
4
0
2.5
0
60
3y
0y
MRD
Delivers an attack with a potency of 100.
Additional Effect: Increased enmity.


Combo Action: Heavy Swing
Combo Potency: 200
Grants Wrath when used with Defiance. Duration: 30s

Keen Flurry
6
0
90
0
0
0y
0y
LNC
Increases parry rate by 80%.
Duration: 20s
Fracture
6
0
2.5
0
80
3y
0y
MRD
Delivers an attack with a potency of 100.
Additional Effect: Damage over time.
Potency: 20
Duration 30s (Duration 18s below level 28)
Impulse Drive
8
0
2.5
0
70
3y
0y
LNC
Delivers an attack with a potency of 100. 180 when delivered from behind target.
Bloodbath
8
0
90
0
0
0y
0y
MRD
Converts 25% of physical damage dealt into HP.
Duration: 30s (Duration 15s below level 20)
Invigorate
22
0
180
0
0
0y
0y
LNC
Instantly restores 300 TP.
Mercy Stroke
26
0
90
0
0
3y
0y
MRD
Delivers an attack with a potency of 200. Can only be executed when target's HP is below 20%.
If delivered as the killing blow, up to 20% of your maximum HP will be restored.
Blood for Blood
34
0
80
0
0
0y
0y
LNC
Increases damage dealt by 20% and damage suffered by 25%. Duration: 20s