FFXIV Maps: Limsa Lominsa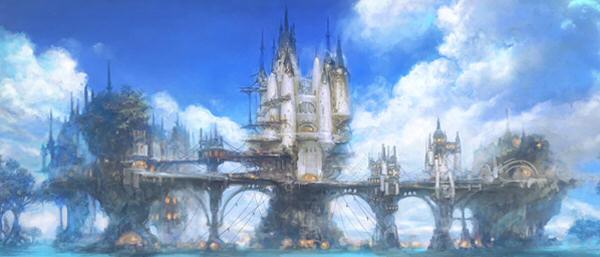 Cities: Gridania | Limsa Lominsa | Ul'dah
On the southern coast of the island of Vylbrand, under the shadow of ancient cliffs worn by the relentless onslaught of the Rhotano Sea, lies the marine city-state of
Limsa Lominsa
. Said to be blessed by the goddess of navigation, Llymlaen, the city is spread out over countless tiny islands, each connected by sturdy bridges of iron and wood construction, earning her the name the "Navigator's Veil" from traveling bards who have witnessed the city's beauty from afar.
Limsa Lominsa is a traditional thalassocracy, with power lying in the hands of the ruling party and its leader — the Admiral. Its economy is driven by shipbuilding, fishing, and blacksmithing, but the majority of wealth comes from the lucrative shipping industry.
To maintain the safety of its maritime routes, the city employs a formidable navy known as the Knights of the Barracuda. However, even in the waters nearby the city, pirate bands run rampant, reaving and pillaging.
Limsa Lominsa Lower Decks
Limsa Lominsa's Lower Decks contains many key locations, which are marked on the map. These are Mealvaan's Gate (The Arcanists' Guild), Fishermans' Bottom (The Fishermans' Guild), The Astalicia (The Marauders' Guild), West Hawkers' Alley, East Hawkers' Alley, The Ferry Docks and the Crow's Lift.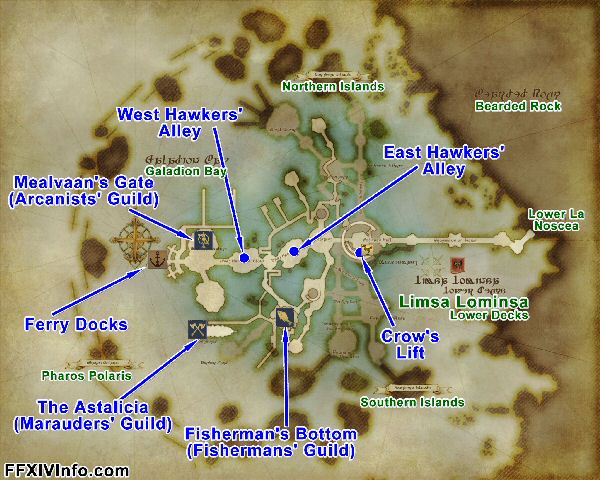 We ask that you do not link directly to these maps as they use a lot of bandwidth. Instead please link people here.
Limsa Lominsa Upper Decks
Limsa Lominsa's Upper Decks contains many key locations, which are marked on the map. These are Coral Tower (The Musketeers' Guild), The Bismark (The Cullinarians' Guild), The Drowning Wench (The Adventurers' Guild), Vymelli's (The Armorers' Guild), Naldiq (The Blacksmiths' Guild), Thundersquall Thundersticks, The Hyaline, The Seventh Sage and the Crow's Lift.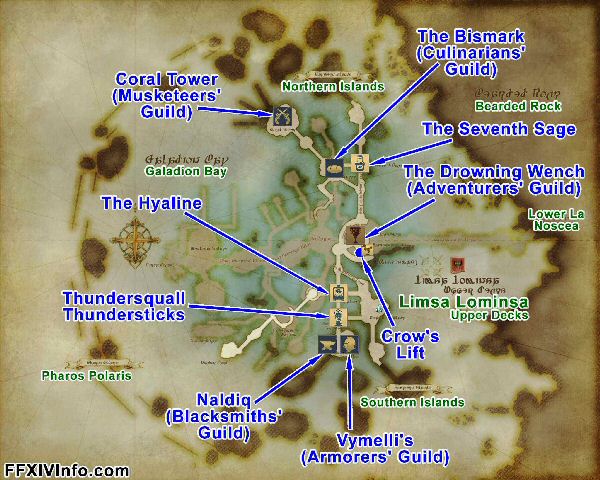 Limsa Lominsa Screenshots
Some screenshots of Limsa Lominsa can be found below. These are from the beta version of the game and were released by Famitsu in July 2010.