Posted by Xenor Vernix on Mar 28, 2014 - 00:38.

If you are looking for THE FASTEST WAY to reach the level cap with any class or job, this FFXIV Leveling Guide by Killer Guides is a definite must have! There is nothing that comes even close in regards to level of detail and overall quality.
[Advertisement]
I just thought I would make a post regarding the updates for 2.2. Today I have updated the item database and it now contains all of the new items in patch 2.2. You can even see what's new by going to the
Patch 2.2
page. Or why not look at the new
High Allagan
equipment from the Second Coil of Bahamut?
Getting the item database updated quickly was important as despite SE having their own it is quite a popular section of the site. Of course this also brings with it other benefits that you won't find elsewhere such tiered equipment guides for all jobs (under the guides section).
There's also drop list for the new dungeons:
The Lost City of Amdapor
Brayflox's Longstop Hard Mode
Halatali Hard Mode
It's not all Darklight - SE have went and added completely new ilevel 70 sets which drop alongside it. Over the next few days those pages will also see the addition of boss guides, maps and screenshots.
When it comes to drop lists what will be difficult is determining which of the High Allagan gear drops in which turn, and for that we require community help. Currently the new Coil does not have pages on the site but these will be added over the weekend.
Back to guides of guides; the
End Game guide
is outdated as a result of 2.2, however it will be updated soon to reflect 2.2 progression. A guide for the Zodiak weapon quest will also appear, alongside Leviathan and Moogle extreme guides.
Most of the things listed here will be on the site by Monday, however more difficult content such as new Coil/extreme guides may take longer.
0 comments - Post Comment


Posted by Xenor Vernix on Mar 22, 2014 - 13:34.

Yesterday Square Enix produced their thirteenth live letter from the producer, and in it they talked about patch 2.2. Patch 2.2 is scheduled to go live on Thursday next week and now pretty much all of the details are known. The news everyone has been wanting to hear is that regarding ilevel increases, and it was confirmed that 115 will be the new maximum. Below is a summary from the live letter.
Equipment:
The maximum ilevel for weapons will be increased to 115.
The maximum ilevel for armour will be increased to 110.
Leviathan weapons will be ilevel 100.
Tomestones of Soldiery will be ilevel 100.
Only the Binding Coil 2 will drop ilevel 110+ gear.
Crating gear up to ilevel 90 will be added, along with new recipes.
You will be able to upgrade your relic weapons to the Zodiac weapon system. This will be a very long quest and have multiple stages. It will also change the appearance of your weapon after a certain point.
Full ilevel 90 equipment should be enough to clear Leviathan and Good King Moggle Mog extreme fights.
Glamours:
You can only alter the appearance of equipment if its ilevel is higher than that of the equipment you are transfering the appearance from.
You can use Glamours on multi-slot equipment such as cowls, however it only uses the chest portion.
Weapons and accessories can be changed too.
Retainers:
Additional retainers can be hired for a $2 monthly fee.
Retainers can now go out on ventures. This is a system whereby you select a job and equipment for your retainer and they can go out and gather items for you.
Ventures earn EXP and level up over time. This gives access to new areas and better items.
Each venture costs venture chips which can be bought from grand companies.
The time required for a venture varies depending on the task.
Certain items will only be available via retainer ventures.
Retainers on a venture can still sell items and you can still retrieve your items from them.
Housing:
Small, medium and large sized gardens will be available to all houses.
Gardening is used to harvest seeds and items as a result.
Rare seeds can be obtained through cross-fertilization, resulting in rarer rewards.
Small houses will have a basement added and the number of items they can place doubled to 100.
Personal housing is still coming, but SE feel they need to investigate potential server stresses first so they are using FC housing to gather data.
Echo Buff:
This is designed to make difficult content that has been outdated easier, so people can catch up.
After wiping more than 3 minutes into a battle the echo buff will become active.
This will give you increased HP, damage dealt and cure potency.
Each further wipe will increase the echo buff further, until a maximum has been reached.
For the Binding Coil the echo buff will be added in phases, so every two weeks it will become stronger. However during the first two weeks of 2.2 there is none.
Misc:
The Gilgamesh battle will not be difficult content.
Fantasia potion (to change your character's appearance) will eventually be sold on the Mog Station.
Game addons and API will be released at some poiny after the PS4 version has been released.
There will be special mounts added for the PLD and WAR jobs.
Additionally the bonus for doing content in the DF as a tank will be multiplied by 7.
After the PS4 version has been released a roadmap will be shown for future development of the game.
Future Patches:
Gold Saucer is coming with three main features.
In 2.3 you will be able to enter the Crystal Tower with a pre-made alliance of 24 members.
New Grand Company ranks will be added in 2.3.
In 2.3 you will be able to summon your chocobo companion after registering for a duty.
In 2.3 you will be able to use the Duty Roulette with a pre-made party.
Eventually the cap on the number of furnishings you can place in a house will be increased.
You will be able to fight Nidhogg from the DRG job quests once we are able to go to Ishgard.
The theme for the first expansion pack (3.0) will be "A Thousand Year War".
The city of Sharlayan will be accessible some day. (expansion maybe?)
Extra from the Patch Notes:
Amdapor Keep will have its difficulty lowered through weakening the second and third bosses.
Pharos Sirius has had its difficulty reduced so that it is similar in difficulty to Copperbell Mines and Haukke Manor hard modes.
Turn 2 of the Binding Coil will have its difficulty adjusted. High Voltage can now be removed with spells that normally remove paralyze effect. This is most likely due to the fact it is now in the DF and you aren't guaranteed a PLD or BRD to silence the attack when using the DF.
Darklight has been moved to the new dungeons, while Philosophy tomestones no longer exist.
Tomestones of Philosophy can be converted to Mythology via an NPC.
0 comments - Post Comment


Posted by Xenor Vernix on Mar 13, 2014 - 12:40.

Yoshi-p has just released his 55th letter from the producer and stated that patch 2.2 is scheduled to go live on
March 27th 2014
. Yoshi-p talks about the Glamour system that is coming in the patch where you can change the look of your equipment and goes on to list other features coming in the patch.
"Other features coming in patch 2.2 include master recipe books for crafters, gardening for free company estates, new hair styles, retainer ventures, big fishing, a challenge log, new mounts, and more. Disciples of War and Magic may also want to dust off their relic weapons if they aren't still using them, as an opportunity to unlock their true powers will present itself."
In terms of content that we know are coming, we can add to the list:
Binding Coil of Bahamut turns 6-9
The Lost City of Amdapor dungeon
Halatali Hard Mode dungeon
Brayflox's Longstop Hard Mode dungeon
Levathan hard and extreme mode primal
Good King Moggle Mog XII extreme mode
Expect some surprises too.
Now that the patch is only two weeks away we will be preparing the site for these changes and updating things much faster than we did for 2.1. 2.1 was launched at a bad time for us, however this patch is in a quiet time.
Source:
Live Letter XV
0 comments - Post Comment


Posted by Xenor Vernix on Mar 10, 2014 - 00:04.

We've had word from the guys at Killer Guides that their guides have been updated for version 2.1, though we are a little late to share the news with you. Killer Guides have three main guides for FFXIV: ARR focused around leveling, classes and gil generation.
In their
leveling guide
they have added the new quests in patch 2.1, exclusive guides for the extreme primal battles, strategies for the Wolves' Den and PvP as well as guides for the four new dungeons. This is their most popular guide and has good reviews.
In their
class guides
they have added an overview of the changes for all classes and info on Treasure Hunts.
In their
gil guide
they have added new crafting lists for all DoH and DoL classes.
What's so good about the guides by Killer Guides is that when they update the guides (say for patch 2.2) you will receive a notification whereby you can login and download the new updates for free.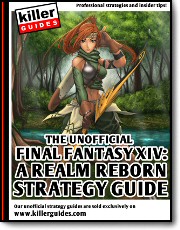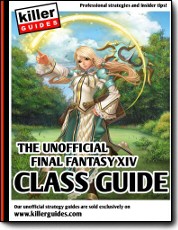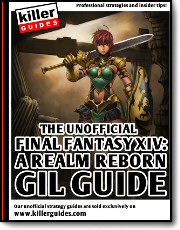 0 comments - Post Comment


Posted by Xenor Vernix on Jan 26, 2014 - 23:35.

This weekend Square Enix hosted their 12th live letter from the producer. The letter was centred around the upcoming patch 2.2 as well as other things. Patch 2.2 is titled "Through the Maelstrom" and is scheduled to be released in March. However there is a patch 2.2 which is scheduled to be released on February 22nd; the same day as the PS4 beta begins.
Features scheduled for 2.16:
Retainer summoning bell in Revenant's Toll
Improvements to market board, including a wish list.
Summon a random minion and mount.
Dhorme Chimera and Hydra fights added to the Duty Finder.
Gear sets automatically substitude main arm when the item is no longer there.
Cooldown timer for timeworn maps.
Character stats will affect quick synthesis success rates.
Gear dyeing preview.
Notification feature for the Party Finder.
Party invitation decline feature (not sure what this means).
Mog letter history.
New achievement rewards.
New feature to reselect focus targets.
Map marker feature.
More action icons for macros.
New command to have characters look at the camera.
Characters will appear wet during rainy weather.
Potential targets will have a glowing outline when hovering the mouse over them.
Patch 2.2:
Patch 2.2 will come in March and it will be a big one, brining new raid content, new dungeons and a new primal. Below is a summary of what was shown and what we now know on patch 2.2.
Dungeons:
Amdapor Township will be added. This is a new dungeon to learn more about Amdapor.
Amdapor Township will be the hardest dungeon yet, ilevel not yet revealed.
Amdapor Township is for parties of 4 with the entrance west of Camp Tranquil.
A new Allagan Tomestone will be added to the dungeon.
Pharos Sirius will have its difficulty reduced.
Halatali and Brayflox's Longstop hard modes will be added.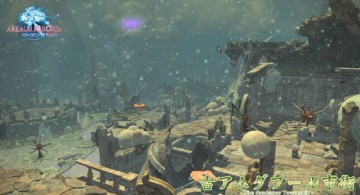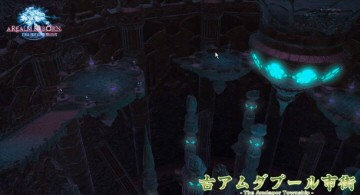 Primals:
A new primal will be added in every major patch from now on.
Leviathan will be added in 2.2, both hard mode and extreme mode. For 8 players.
Hard mode will be for the main scenario so will not be too difficult.
The primal will drop a strong weapon; ilevel revealed in the next live letter.
SMN will not be able to summon Leviathan because Square Enix does not want to give the job new skills without giving every other job new skills. New skills will be added when the level cap is increased in the first expansion pack.
Good King Moggle Mog XII extreme mode will be added.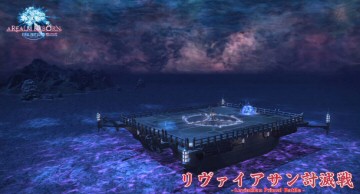 The Binding Coil of Bahamut:
4 new turns will be added, with none being like turn 3 (no bosses, no loot).
The sub name for the turns will be Invasion, however the name may still change.
The entrance to turns 6-9 appears to be in North Shroud.
As with turns 1-5, progress will be recorded for turns 6-9.
You will be required to clear turns 1-5 in order to enter turns 6-9.
Turns 1-5 will be added to the Duty Finder and the weekly lock out removed. Difficulty will be "eased".
A new buff will be added to help players struggling with turns 1-5.
There will be a new item level for the gear rewards.
Other:
The Glamors system will be added (formerly known as the vanity system.)
New crafting recipes will be added for high item level gear, glamours and other stuff.
New hair styles will be added.
Adjustments to help prevent kick feature abuse.
Kobold and Sahagin beast tribe quests will be added.
New fishing challenges will be added.
Broom minion, mini Kobold minion will be added.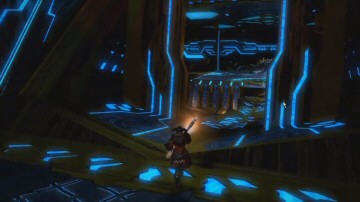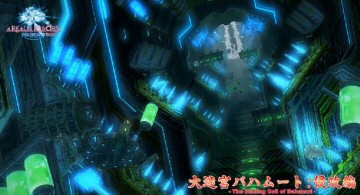 Along with patch info, some unrelated things were also mentioned during the live letter. These are highlighted below.
New Products:
The PS4 version of FFXIV: ARR will be released on April 14th 2014.
Pre-orders will begin on January 27th 2014.
The CE will give a fat chocobo mount and a wind up moogle minion.
People who already own a CE on PC or PS3 will also receive these items.
The FFXIV: ARR Official Soundtrack will be released on March 27th 2014.
It will contain 119 songs, 6 hours 40 of music up to patch 2.1.
A wind up Bahamut minion will come with the soundtrack.
A 469 page strategy guide will be released on February 27th 2014.
Other:
Square Enix will look at house prices again at the end of February.
Small houses will be able to build an airship in the basement.
A special mount may be added to help get people playing as tanks.
Events:
A Valentines day event will run from February 4th to February 24th.
The Lightning Returns event will return from February 4th to February 17th.
Admin Note:
As a side note we realise a lot of 2.1 content still needs to be added to the website. This will be done very soon. I was on holiday for the first 3-4 weeks of patch 2.1 so things were delayed.
0 comments - Post Comment


«« Older News »»