Posted by Xenor Vernix on Aug 23, 2010 - 12:01.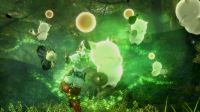 Square Enix have announced that the closed beta phase for Final Fantasy XIV will end on August 25th. The open beta will begin shortly after, in early September. We're unsure how you will gain access to the beta but we know it will require some form of application process.
I gained access to the beta at the weekend and I am very happy with what I have seen so far. During the downtime between the two beta phases I intend to make a post about my beta experiences, with screenshots. I will also be updating the website with abilities, weapons and other useful information from the beta.
Source:
Official FFXIV Twitter
5 comments | |