Participate in a community of Final Fantasy XIV fans. Make new friends, talk about the game and plan events within the game.
Inside you can update your personal profile with character information and join the discussion in our forums on just about anything!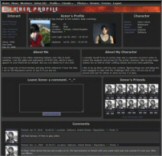 Membership is totally free and only takes a few minutes. If you already have an account simply login at the top.
Also, become a fan of our Facebook page and follow us on Twitter
@FF_XIV_INFO
to help spread the word!
Create Account
What some fans had to say about FFXIV Info:
"FFXIV Info really has it all for us fans of the Final Fantasy series. With features like frequent news updates, you get a good overiew what's going on. This is why we gamers over at the
PokerListings.com
guide have decided to support the website through our "Supporting the web" campaign. Wish you guys all the best!" - Claire and the rest of the team at PokerListings.