Crafting in FFXIV
has changed significantly since the game's release and it will continue to do so. Our
FFXIV crafting guide
is current as of patch 1.23 and we will continue to update this going forward. The changes made since the game's release have largely been to the recipes so far, however some have changed the abilities and the way HQs are created. FFXIV V2, also known as A Realm Reborn, is said to bring in a new crafting system.
In the past we had to create many different parts to create an item, often requiring various crafts and skill levels. This was all time consuming. Training books were required to help with certain crafts, as were guild support. This is no longer the case. HQ items have been simplified from a +1, +2 and +3 system to a simple +1 system.
Materia
has also been added so you can customise your crafted items.
Crafting Tools
In order to start crafting in your chosen discipline you must first equip the tool that belongs to that class. You're probably wondering where you can get hold of these tools. In each starter city there is an NPC for each class that sells the basic tools they need. In cities where the class' guild is located, the NPC will be here; otherwise it will be in one of the shopping areas. The list of NPCs and their locations are as follows:
Once you have bought your crafting tool you will be able to equip it and start crafting items. Beginner recipes are linked in the table above to get you started.
There will come a time when you need to upgrade your crafting tool to a better one, as your level gets higher. The first time is usually around level 7. These better tools can be obtained through crafting, from local guildleve quest reward or from buying from other players in bazaars or the market wards.
Levelling Up Your Crafting Class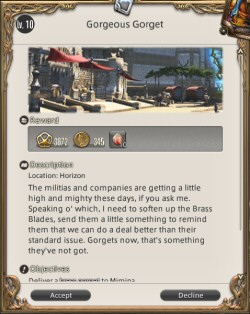 Crafting
is a lot easier to level up these days. Local
guildleves
are by far the best method as they give you a big bonus upon handing them in, especially at higher levels. They are good for beginners too because it does not cost anything and you receive useful materials as rewards. These can be used for further crafting or sold for gil.
Individual items are now good to skill up on too because they now give significantly more EXP than they used to and finishing the item with a higher quality is rewarded better. If you wish to take this route with crafting it is best to do a bit research on recipes and see which ones will be the most cost effective to use for skilling up on.
The reason for this is that you may find yourself having to sell crafted items to NPCs for less than the cost of the materials. You will want to find the recipe that minimises this gil loss. You may even be able to make a profit if you can skill up on items that other players are willing to buy. However skilling up on any expensive materials is a risk because if you fail a synth you will lose all of the materials. You should expect some fails when skilling up. We can't give you a step by step guide on what to skill up on because a lot of it depends on the economy of your server.
The main things you need to research are what materials you need to perform a synth, where to find these materials, how much they are going to cost you and the amount of money you may gain or lose per successful synth.
Finding recipes like the Alchemist's
Distilled Water
is where the benefits come. You can buy the Muddy Water material for this synth for 76 gil and synth 3 items worth 25 gil each. This results in a 1 gil loss per successful synth, making Alchemy easy to skill up to 10. Other disciplines may have similar synths, you just have to look for them.
Once you have done your research, gather the materials and get ready to start crafting.
Beginning a Synthesis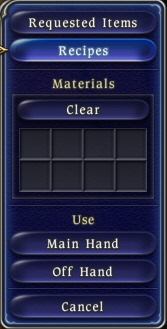 To begin your synth, simply select "Synthesis" from the right side bar of the game. You will be presented with a screen that allows you to select a bunch of materials from your inventory. There is also the option to use requested materials, which is how you will complete your local guildleve quests.
That was the easy bit, now you're probably wondering what the Main Hand and Off Hand options are for. They basically decide whether you use your primary or secondary tool. The tools affect synths in different ways, for example performing an HQ synth on your primary (main hand) tool will give you more of that item, while performing an HQ synth on your secondary tool will give you a +1 item. This isn't true for every case, but in the majority it is.
A lot of outdated crafting guides will tell you the opposite, because it used to be that way before Square Enix changed it around patch 1.19. It must be said that for finished items you will receive a +1 with your main hand as well as your off hand tool.
Which tool you choose will depend on your needs. Sometimes producing +1 items is better than producing multiples, simply due to the way the HQ system works. HQ materials are good to have but if the materials aren't worth anything and you plan to sell them to NPCs then you may be better off with multiples. One other thing to be aware of is that main hand tools often have better stats on them so it could make finishing a synth a little easier.
Once you have decided which materials and tool to use, you are ready to craft your item. You will first be shown how many shards, crystals or clusters the recipe requires and then you will be given the crafting menu as your synth begins.
Crafting Mechanics
The crafting menu gives you a number of options and pieces of information about the item you are creating. It gives you your progress, its durability and its quality. As you use actions your progress will increase towards 100% while your durability decreases towards 0%. The goal is to reach 100% progress before 0% durability. Quality is only important if you are going for HQs. The higher the quality, the higher your chance of HQ. Your chance of HQ is displayed at the bottom of the crafting window.

The four default options available are called Standard, Rapid, Careful and Wait. I say default because as your class level increases you will be able to gain more options to use during synthesis. These typically give you benefits when performing certain kinds of recipes such as parts or finished products. Crafting abilities now consume the same amount of durability whether you are successful or not.
Standard Synthesis
- This option is best used if you just want to complete your synth and don't care about HQing. It has the best chance of success out of the four main abilities but it will consume the most durability. A successful Standard action will gain around 20% progress.
Rapid Synthesis
- Rapid focuses on getting the recipe completed as quickly as possible. As a result you sacrifice quality for extra progress. You can gain up to 30% progress on a successful rapid but you will gain 0 quality as a result. The chance of a successful Rapid is lower than that of a standard.
Careful Synthesis
- Careful is useful if you wish to produce an HQ item as the quality gains can be massive. However, this kind of action is harder to succeeed than Standard.
Wait
- Waiting allows you to skip a turn and give your synth a chance to recover. This is best used when your element becomes unstable and can help stabilise it again. An unstable element results in very high quality losses when it explodes.
HQ Crafting
HQ crafting in
FFXIV
has been improved since patch 1.21. Gone is the luck based system where you would hope for the best. Now you have some control over it. It's still based around quality but how you get this quality has changed a bit.
When you start a synth your crafting bar will have an initial quality which is determined based on the quality of your materials. Using all HQ materials will start this at 500, while all NQ materials will start it at 0. Using a mix of HQ and NQ materials will put you somewhere inbetween. Your goal is to get this quality as close to 1000 as you can, or even higher.
By using Careful Synthesis and useful abilities your quality will increase. The higher your level above the recipe level the faster it will increase. Your chance of HQing the item is displayed at the bottom of the crafting bar and will let you know how close you are to an HQ. The closer your quality gets to 1000, the faster your chance of HQ will go up.

When your synthesis reaches 100% you will have finished your item and it will either be an HQ or it will be NQ. If it is NQ you will be given a Double Down option. This is a one time only chance to get your item to HQ. If it succeeds, you get an HQ item. If it fails, your item is destroyed. A Double Down chance of success is half that of your original HQ chance.