Posted by Xenor Vernix on May 24, 2013 - 04:49.

More FFXIV: ARR info appeared on the dev blog today. Read on for all the new details.
"
Hello all!
Fernehalwes here.
I know a lot of you guys have already seen the new box art (on sale August 27th, pre-order yours today), but thought you might be interested in how else it is being used. First, I found this massive tapestry on display in one of the dev team meeting areas: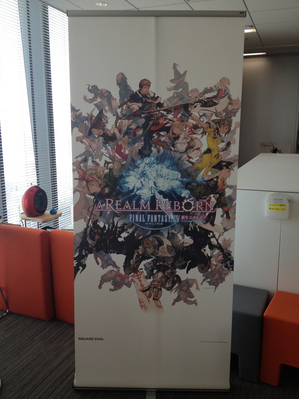 Rumor has it that all of the gear shown here is actually in the game! Which would mean that bookish beauty in the mortar board on the far right is...!!!
Ahem! I also saw these sweet signed posters drying on the desk outside the director's booth: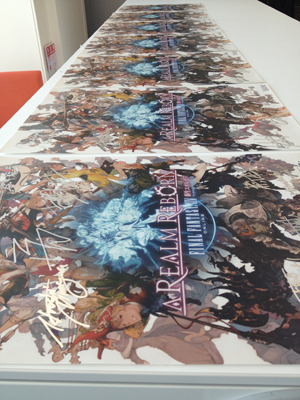 Now tell me those wouldn't look good in any steakhouse, rumpus room, or dental clinic waiting area.
I would have signed them as well, but they ran out of room and it was either me or Art Director Akihiko Yoshida. I let the poor guy have it....this time. ;)
Fernehalwes
"
0 comments | |