Posted by Xenor Vernix on May 22, 2013 - 05:46.
New FFXIV: ARR info is available on the dev blog from today. Read below for all the news, taken from the dev blog.
"
Hello all!
Fernehalwes here.
Last night we did the final sound check for the new trailer we'll be unveiling at this year's E3. As you can see in this photo, our sound director, Masayoshi Soken, is explaining to Yoshi-P how knee socks inspired him to create this particular orchestral masterpiece.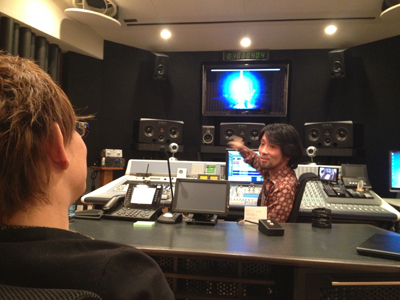 After that, Yoshi-P and community guru, Toshio Murouchi, moved over to our in-house studio to record the commentary track for an upcoming video release. Needless to say, it was late, and neither could quite get into the groove...
Who knew that the words 'konnichiwa' could be so funny?
Fernehalwes

"
1 comments | |