Posted by Xenor Vernix on May 31, 2015 - 20:46.

Today sees some big changes to FFXIV Info, with the addition of new pages for Heavensward content as well as changes to the item database and the navigation structure.
Navigation
Until now the idea was to link everything in the main navigation bar so that pages were easy to find from anywhere, but this was not sustainable. With the release of Heavensward coming up we literally ran out of space to put pages. This meant we had to change things a little.
The idea behind the new structure is that the most popular content will still be one click away while older content is moved under a sub category. This stops the navigation growing out of control and hopefully makes it less of a pain for those on a mobile device to browse the website.
As a result we have done things like instead of listing all zones within La Noscea for example we have instead listed just the region and this page will link to the six zones. This concept was also applied to item listing and raids.
To solve the crowding on the dungeon category it was decided to group all A Realm Reborn dungeons together and create a dedicated page for them as such: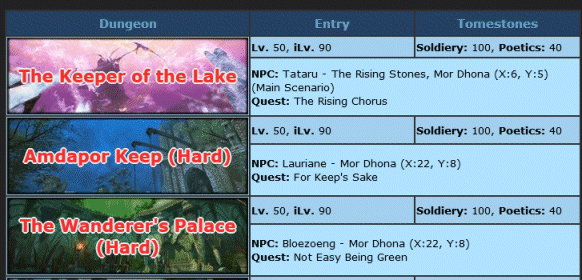 This will be done for Heavensward dungeons too, but as those dungeons will be popular they will have individual links too until the next expansion. The plan is to do the same with the trial fights listed under the guides category at some point before Heavensward.
Item Database
One other big change is with the item database. It has been reworked so that the data people care about is easier to find, so some columns have been removed and some added.

The special pages for listing items such as raid drops were also integrated better and they now display which raid they drop from. The new format allows you to filter down as such:

As you can see, I can list all BLM Final Coil gear by typing "Casting or BLM" into the items box. The reason for the "or BLM" is because the weapon would not be shown without it. You could also add a secondary filter to Location and drill down to a specific turn.
Heavensward Content
We have added new pages for the Aura race, new pages for the Astrologian, Dark Knight and Machinist jobs as well as new pages for the new areas. This is all based on confirmed information. There is a lot of information out there for Heavensward such as ability names/descriptions and dungeon names however these names have not been confirmed so we don't want to add them yet.
The plan for the launch of the expansion is to add as much information from the patch notes as we can during the E3 week prior to the launch and for things that can't be added before launch they will be done straight after in the following priority order:
Item database update.
Job abilities.
Drop lists for dungeons.
Afterwards guides for dungeons will be created along with additions of maps and screenshots to all accessible areas. This part requires leveling up to 60 and the three tasks above are going to slow that down but we'll do our best.
As a final note I came across this awesome Google document listing everything known about Heavensward:
https://docs.google.com/document/d/1JSCm4VBfKGnegzqWQpsNWKI_uZkSFyVZ3lI1VGvrnl0/pub
Content, names and dates listed there are subject to change but it is the best compilation of info we've seen.
1 comments | |