Posted by Xenor Vernix on May 23, 2013 - 21:56.

The countdown begins, 95 days left! FFXIV: A Realm Reborn will be released on
August 27th, 2013
on both the PC and the PS3. This will be a worldwide release and like the original there will be an early access period. To qualify for early access you need to pre-order the game or be a
legacy player
. A legacy player is someone who subscribed to 1.0 for at least 90 days.
Pre-ordering
Before I talk about pre-ordering the game, it is worth pointing out that if you own a copy of FFXIV 1.0 you do not have to buy FFXIV: A Realm Reborn. You will be entitled to a digital download copy for free. If you don't already own a copy of the original then pre-ordering is the best way forward simply because it comes with benefits.
Pre-ordering the game gives you bonuses, such as the early access mentioned earlier. As well as this you will be entitled to a Cait Sith Doll minion and a Mog Cap, as shown below.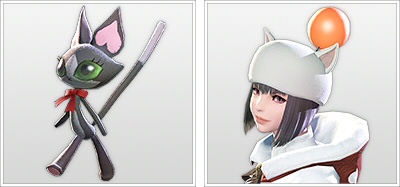 In case you're unsure of what a minion is, they are pets that follow you around. They have no purpose in battles, they are just there for show. Some people love them, some people hate them. There will be dozens of these in FFXIV: ARR.
The game can be pre-ordered from Square Enix's own store, or a participating retailer such as
Amazon
. You can either purchase a physical copy or a digital download.
Collector's Edition
The collector's edition of FFXIV: ARR is a fair bit more expensive than the standard edition of the game but the extras you get with it make it more than worth it as you are getting a lot of free stuff. You get five physical items as well as an exclusive box with art by Yoshitaka Amano on it. The physical items appear to be better than those in 1.0 too, with the following being included:

From left to right:
Seventh Umbral Era Special Movie Content Disc
Art Card Set featuring 5 special CG artworks
An art book - 1.0 also came with one of these.
Security token
Special soundtrack featuring city and field music
The digital items that come with the collector's edition are pretty cool too. You get a Helm of Light, a Coeurl mount, Behemoth Barding and a baby Behemoth minion. These are shown below in the same order.
I've already explained what a minion is, but what's with the others? In FFXIV: ARR there will be many mounts available rather than just the standard chocobo. Even 1.0 had a goobbue mount. So in ARR there will be a coeurl mount for those who purchase the collector's edition. There is also going to be a magitek mount in the game, however it is not known how this will be obtained. When it comes to the Behemoth Barding, this is basically armour for your personal chocobo. The helm I need not go into in detail, it will be equipable and most likely give a bonus.
Other Notes
FFXIV: ARR characters are compatible across platforms, meaning a character created on the PC or PS3 can be played on the either device. However you must own a copy of both games in order to do so. It is also possible to play multiple characters at the same time providing you own multiple copies of the game, though it is not clear whether you need to subscribe for each character. Most likely you do but we await more information on this.
Of course this post wouldn't be complete without the box art. On the left is the standard edition while on the right is the collector's edition.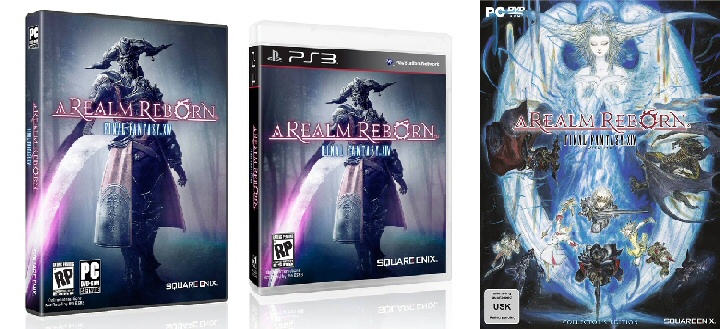 6 comments | |