If you are looking for THE FASTEST WAY to reach the level cap with any class or job within 7 days, this FFXIV Leveling Guide by Killer Guides is a definite must have! It comes with step-by-step leveling tips, quest walkthroughs, detailed primal battle strategies, extensive dungeon guides, and more.
[Advertisement]
The part of the guide that deals with skill rotations has not yet been updated for Heavensward.
Warrior is a tank job capable of holding enmity through high damage output. While it can function as a damage dealing job its primary role in battle will be to tank so that you are not forced to bring a Paladin to every party. The job branches off the Marauder class. This guide will talk about how to play the job at level 50 and it should be noted that it may not be the only way to play it. Others may disagree, but see it as a starting point and build on it from there.
Attributes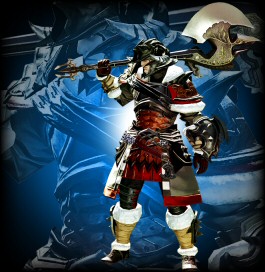 As a tank who holds hate via damage dealt your primary focus should be on VIT and STR. Vitality (VIT) to increase your HP, Strength (STR) to increase your damage and the percentage of damage mitigated by block and parry. Dexterity (DEX) could also be considered however it is probably not worth the investment due to the benefits of VIT and STR. With Defiance active you will gain 18 HP per point of VIT (15 without) and the STR will increase your damage. Since Warrior does not use shields the benefits from STR and DEX are lessened as you can't block without a shield but the benefits of STR on damage outweighs the negative point.
With equipment you could focus on more stats than just VIT, STR and DEX. But also consider stats such as Defense, Parry, Attack Power, Determination, Critical Hit Rate and Skill Speed. These are the main stats that your WAR will make use of for tanking and dealing damage. Determination will boost the amount of damage dealt by all attacks and the amount of HP recovered when healed, which makes this stat more important than it is for other classes since you benefit from both of the bonuses in a big way.
Skill Rotation
For a full explanation of skills see our
Warrior
and
Marauder
pages.
As mentioned earlier, the Warrior uses damage in order to retain enmity and a lot of this is generated via powerful combos. These combos need to be planned and used alongside other buffs in order to maximise their damage and enmity generation. Before we get into the skill rotations it is worth listing what these combos are.
1) Heavy Swing > Skull Sunder
2) Heavy Swing > Maim
3) Maim > Storm's Path
4) Maim > Storm's Eye
5) Skull Sunder > Butcher's Block
6) Heavy Swing > Maim > Storm's Path
7) Heavy Swing > Maim > Storm's Eye
8) Heavy Swing > Skull Sunder > Butcher's Block
The idea behind Warrior is that you gain Infuriated status in order to execute a very powerful attack. But in order to become Infuriated you must gain 5 points of Wrath. Wrath points are gained when under the effect of Defiance, an effect which lowers your damage output by 35% in order to increase enmity.
WAR has two potential rotations, depending on whether Berserk is available or not. This is because Berserk gives you a stack of Wrath too. So if Berserk is available you can use this simple combo:
Combo #7
Combo #8
Berserk > Inner Beast or Steel Cyclone
*OR
Combo #1 > Inner Beast or Steel Cyclone > Butcher's Block
Repeat
...
Monster < 20% - Mercy Stroke
*If Berserk is not available then you will perform an additional combo before Inner Beast and an additional Butcher's Block.
* Credit goes to Anonymous for this rotation. I begin with combo #7 as this is my main damage dealing combo. Maim will increase my damage by 10% while Storm's Eye will reduce the slashing resistance of the target by 10% as well as increase my HP recovery from heals by 50%. This combo will give me 2 points of Wrath.
I then use combo #8 in order to generate some enmity, since both stages of this combo have the added effect of increasing enmity. This combo will also give me 2 points of Wrath.
I then use Berserk to get my fifth point of Wrath and gain Infuriated status.
With Infuriated status we can launch one of our two most damaging attacks. Inner Beast is better for single targets or situations where you need to recover a lot of HP quickly, while Steel Cyclone should be used when dealing with multiple targets.
But what if Berserk is not available? You will have to insert combo #1 at this point to gain that extra stack of Wrath so that you can use Inner Beast or Steel Cyclone. You can then finish this combo off with Butcher's Block. Inner Beast and Steel Cyclone do not interrupt your combo so this works fine.
When the monster has below 20% of its HP left you will be able to use a powerful ability called Mercy Stroke. As it has a long recast you should fit it in when possible.
There are a number of other abilities which are very useful. Infuriate being the most as it instantly gives you 5 Wrath. You don't want to use this mid rotation otherwise you will lose Wrath, and with the 3 minute recast you need to carefully time when to use it to ensure it is available for those important boss fights.
Brutal Swing can also be useful for when you need to Stun a target's special attack. You can also gain 1 point of Wrath by using it.
Cross Class Abilities
WAR can take cross class skills from the GLA and PGL classes and at level 50 you can equip up to 5.
From GLA the most useful is Provoke. This will instantly put you top of the enmity list if you have lost hate. Convalescence is also important for HP recovery, while Flash is useful for enmity generation.
From PGL you should pick up Second Wind for HP recovery (great when paired with Convalescence) and perhaps Featherfoot to increase your evasion.
Gear
The best gear for your Warrior constantly changes depending on what was added in the latest patch so it is important to do your own research on top of this guide. We have broken the gear down into tiers in order to give some indication of what you can use before you get up to that item level tier.
Materia
In FFXIV all materia can be added to any slot so this guide only lists the materia that is useful for the Warrior rather than where to put it.
Vitality - HP
Strength - Melee attack damage and block/parry damage reduction
Dexterity - Chance of block/parry
Battledance - Parry Savage Might - Determination
Quickarm - Skill Speed
Heavens' Eye - Accuracy
Savage Aim - Critical Hit Rating
As you will be limited by how much of a certain stat you can apply to gear through stat caps it is a good idea to use a variety and add stats to gear which aren't already on the piece.