If you are looking for THE FASTEST WAY to reach the level cap with any class or job within 7 days, this FFXIV Leveling Guide by Killer Guides is a definite must have! It comes with step-by-step leveling tips, quest walkthroughs, detailed primal battle strategies, extensive dungeon guides, and more.
[Advertisement]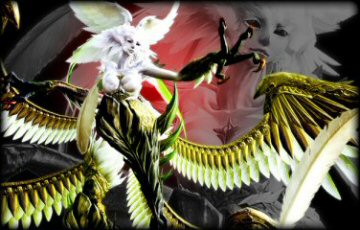 Garuda is the second primal you will encounter on route to your relic weapon and the fight becomes available in the Waking Sands, Vesper Bay, Western Thanalan upon completing the Ifrit quest. This fight is more difficult than Ifrit but there is nothing too complex about it.
Party Setup
Two tanks for this are a must have, because in phase 2 Garuda will spawn two clones of herself and one tank will take control of one of these. One of the tanks can be a WAR for this fight as it helps boost the DPS a bit during the parts where he is not tanking. You will need 2 healers and it helps to have either a BLM or a SMN for the Meteor limit break. It can be done without but it will be more difficult, and this is a risk you take if you do this via the duty finder.
For Garuda you really should not be heading in wearing your AF armour. By now you should have acquired some darklight, and while a full set isn't required for the fight having some pieces will benefit everyone in the group. This is even more important if you are the main tank. If the party as a whole is under geared you will struggle to kill Garuda's clones in time and the party will wipe.
Garuda's Attacks
This fight is more about standing in the right place at the right time rather than constantly dodging attacks as with Ifrit or Titan. However the attacks she uses are still worth listing.
Wicked Wheel:
This is a small AoE attack Garuda will use, located on herself.
Downdraft:
Similar to Wicked Wheel except this is a conal attack.
Friction:
This attack is used on a random party member and cannot be avoided. If you are a caster it will interrupt your spells, so Surecast has some usage in this fight.
Slipstream:
This is a conal attack which Garuda and her clones all use. It is important to not be standing in front of them in order to avoid this attack.
Mistral Shriek:
This is a high damage attack used by Garuda in phase 1. She will jump up into the air and move towards the centre of the arena. She will then unleash a powerful attack to everyone in her line of sight. The idea is that you hide behind a rock.
Garuda will of course use her signature attack Aerial Blast too but more on that later.
Preparations and Positioning
At the start of the fight the healer should apply their damage mitigation buffs to everyone before the main tank goes in for the pull. They will then take Garuda to the north end of the arena away from the rocks in the centre. The ranged DPS and healers will stand quite far back on the edge of the arena, away from the rocks in the centre. This positioning will prevent all of Garuda's AoE attacks from hitting the rocks in the centre.
Talking of those rocks, it is important to understand what they are for before the start of the fight. Basically there are 12 rocks, in 4 piles of 3. The more that are standing when Garuda uses Aerial Blast; the less damage the party will take. If there are less than 6 remaining then the party will wipe.
Phase 1
Phase 1 is considered the period before Garuda uses Aerial Blast and it is an easy phase. The only things you should be that concerned about in this phase is keeping the rocks alive and correctly avoiding Mistral Shriek. Roughly every minute Garuda will jump into the air and teleport to the middle of the arena. She will then unleash a powerful attack called Mistral Shriek which will kill anyone not hiding behind a rock to block the line of sight.
After this attack she will move back to her previous position and spawn half a dozen or so Razor Plumes. These Razor Plumes are out to destroy your rocks, so you must get rid of them quickly. As a BLM I like to have a Swiftcast Flare ready for them spawning, which takes them to half health. Killing these should not be too challenging.
After a few rotations of this Garuda will then use Aerial Blast.
Aerial Blast
As mentioned earlier, Garuda will deal damage depending on how many rocks are still around. You need at least 6 to survive Aerial Blast. You don't need to hide for this attack but it helps if you all gather up for AoE cures afterwards.
Phase 2
Phase 2 has more things happening in it, however there are three main things to be aware of.
At set times Garuda will spawn two clones of herself called Chirada and Suparna, both of which will be connected to her by a coloured line. One will be green and one will be red. The green line will give Garuda a regen effect while the red line will boost her damage. Which line is connected to which clone differs every time so you just have to be on watch for it. Kill the clone with the green line attached to it first.
Huge tornadoes will also be spawning on the battle field and you must not step into them. There is a kiting part and all players must move around the edge of the arena to avoid getting caught by the moving tornadoes.
A Satin Plume will spawn at set times and it must be destroyed quickly before it puts the party to sleep.
So now that we know what to be aware of, the phase works as follows:
After Aerial Blast Garuda will go back to where you were tanking her in phase 1. Take care to avoid the large tornadoes that spawn and spend about a minute DPSing her until Chirada and Suparna spawn. Defeat these as described above.
After defeating the clones it is time to start kiting. The large tornadoes will start moving slowly and you must remain in the safe spot at all times. A Satin Plume will spawn shortly after so kill it before focussing back on Garuda. Shortly after, the battle will force you to move to the centre of the arena because a large tornadoes will form a ring around the edge of the arena.
After about a minute of DPSing Garuda in the middle you will have to deal with the clones again, just do what you did before. Afterwards the large tornadoe on the outside of the arena will disappear and the other tornadoes will re-appear. You should move back to the kiting phase. Kill the Satin Plume that spawns just like before.
About a minute later you will get another set of clones. By now you should have a three bar limit break and now is the perfect time to have your BLM or SMN make quick work of them by using Meteor. Should you get through this bit then the rest is a simple case of DPSing Garuda until she dies.
If you have a DPS issue and Garuda manages to spawn a fourth set of clones then just do as before. You cannot simply burn down Garuda even if she is down to 1% HP. The regen will be faster than your DPS; you must kill the clone giving the regen effect.
Loot
Upon completion of the Garuda (Hard) battle you will be given a chest with one of the following weapons in it: