Posted by Xenor Vernix on Sep 10, 2010 - 17:47.
If you are looking for THE FASTEST WAY to reach the level cap with any class or job within 7 days, this FFXIV Leveling Guide by Killer Guides is a definite must have! It comes with step-by-step leveling tips, quest walkthroughs, detailed primal battle strategies, extensive dungeon guides, and more.
[Advertisement]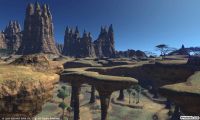 Square Enix have announced that the open beta will be coming to an end at midnight on September 20th (GMT), which is 5pm PST on September 19th. Along with this, client downloads will cease and the beta website will close seven hours later. If you haven't signed up for it yet, there is still time. The official announcement from the company is as follows.
"We would like to thank everyone who has participated in the FINAL FANTASY XIV Open Beta Test.
The open beta test currently being conducted is scheduled to end at 12:00 a.m. on September 20, 2010 (GMT). Following the end of the open beta test, the beta test site will close at 7:00 a.m. on September 21, 2010 (GMT).
*Client downloads will cease simultaneously with the end of the open beta test.
*The bug report form will be closed simultaneously with the beta test site.
There isn't much time left in the open beta test, but we would like to thank everyone for their cooperation and support. "
0 comments | |