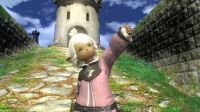 Square Enix have posted on the official website what they think will be the recommended system requirements to run Final Fantasy XIV smoothly in 720p. This does not mean the game is unplayable with a system specification below these, it means Square Enix think a system with this kind of build will be required to experience the game best.
If you remember a few weeks ago the minimum system requirements were released as follows:
Operating System: Windows XP/Vista/7
Processor: Intel Core 2 Duo 2GHz or AMD Athlon X2 2GHz
Graphics: NVIDIA GeForce 9600 512MB or ATI Radeon HD 2900 512MB and DirectX 9
Memory: 2GB of RAM
Disk Space: 15GB
The game will run on these, but it may not run smoothly in demanding gameplay scenarios such as when a large amount of players are around you with lots of special effects going off. You will have to turn the settings down.
The recommended system requirements are quite a bit higher than the hardware above and it certainly shows just how demanding this game will be on current hardware. The company designed Final Fantasy XIV to still look good in five years time so not many people are going to have a system capable of reaching the recommended system requirements at launch.
The settings Square Enix chose for the recommended system requirements are below:
| | |
| --- | --- |
| Window Size and Display Mode | 1280x720 (720p) (Windowed) |
| Ambient Occlusion | OFF |
| Depth of Field | ON |
| Shadow Detail | Standard |
| Multisampling | 4x MSAA |
| Buffer Size | Window Size |
| Texture Quality | High |
| Texture Filtering | High |
The hardware that Square Enix recommends for you to use with these settings and run the game smoothly is as follows:
Operating System: Windows 7 32-bit/64-bit.
Processor: Intel Core i7 2.66GHz or higher. The equivalent AMD is a Phenom II X6 1055T
Graphics: NVIDIA GeForce GTX 460 or better with VRAM 768MB or more. The equivalent ATI is a Radeon HD 5830 card.
Memory: 4GB of RAM.
Disk Space: 15GB.
We don't think you should interpret this as Windows 7 being a requirement for running the game smoothly, more than likely it's just the optimal operating system for the game. There won't be a huge difference between running Vista or 7 on that hardware for example.
What these recommended system requirements are good for is if you are intending to build or upgrade a PC to run the game. You now have a better idea of what to aim for to run the game well at 720p. It should be noted that even higher settings than those listed exist, which will require even better hardware.
Source:
Official FFXIV Website