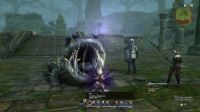 GameSpot have posted a preview of the other two FFXIV starter cities Gridania and Ul'dah. Their article talks about the opening cutscenes and the kind of monsters you can find in these areas. There is also a lot of new screenshots. Game Watch have also posted a lot of new high quality screenshots from these areas.
We will post them on here at some point, however as I am away for a few days I can only post the links. We are doing our best to bring you the latest news throughout this busy week.
GameSpot
Game Watch
The Game Watch article also states that the open beta will begin in early September.