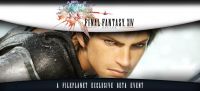 File Planet are giving away a limited amount of beta keys each day until August 16th. All you have to do to get one is be a subscriber of their premium service and take one. A subscription costs $7 per month and you would only need one month's subscription, which isn't a lot for a chance at a beta key.
As their give away is first come, first served and the keys are limited in number you will have to be very quick to get one. They have X amount of keys to give away each day and once that day's keys are taken, there's no more. There are a lot of Final Fantasy XIV fans watching the site for new keys to appear and they will probably disappear within minutes of each day's keys appearing.
Unfortunately the offer is only open to residents of North America. Us Europeans are left out again!
Source:
File Planet