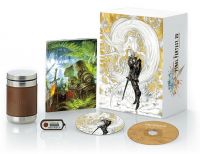 In a surprise announcement, FFXIV has been dated for September 30th 2010, with the PS3 version coming in March 2011. People purchasing the collector's edition will be able to play from September 22nd. The game will cost £8.99 per month with additional characters costing £2.10 per month. Each account comes with one free Retainer with additional ones for sale at £0.70. These retainers act like mules that can stay logged in when you aren't and sell your items, or for storage.
The collector's edition (seen in the image above) comes with the following items:
* 8 days early access to the servers
* 30 day free trial period
* Behind the scenes DVD
* Security Token
* FFXIV tumbler
* Map of Eorzea
* Travel Journal featuring concept art
* A special pass allowing a friend to play for a short period of time
* Onion Helm in-game item
It is not known whether the standard edition will come with a 30 day free trial period but FFXI did so it would be fair to speculate that it will.
Players who received FFXIII campaign codes will be able to obtain an item called Asuran Armguards, which improves the effectiveness of tools.
The minimum system specifications were also announced. You will need a PC capable of the following:
Operating System: Windows XP/Vista/7
Processor: Intel Core 2 Duo 2GHz or AMD Athlon X2 2GHz
Graphics: NVIDIA GeForce 9600 512MB or ATI Radeon HD 2900 512MB and DirectX 9
Memory: 2GB of RAM
Disk Space: 15GB
The Onion Helm: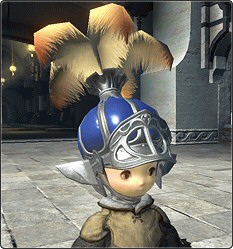 Source:
MCV