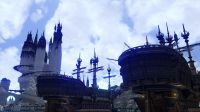 An employee from Square Enix has let slip on her LinkedIn CV that Final Fantasy XIV is in development for the XBox 360. The CV reads, "Final Fantasy XIV for PC, PS3, Xbox360" which suggests the version of the game for the XBox 360 is already in development. The CV has since been edited and the line referring to the XBox 360 no longer has the reference.
A release of Final Fantasy XIV on the XBox 360 should not come as a surprise to fans of the series as Final Fantasy XI was also on the XBox 360 and Square Enix have previously stated that the only reason they have not yet announced an XBox 360 version is because of issues with XBox Live.
While loss of exclusivity could affect a game like Final Fantasy XIII, being multi-platform is a bonus for MMORPGs. More platforms equates to more players, which leads to a bigger community and Square Enix spending more resources on future content and expansions.
Source:
Siliconera