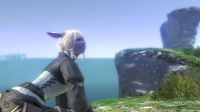 Today, Square Enix have started the beta application process for Final Fantasy XIV. Applications are for both the PC and PS3 versions but only the PC version is due to start in the near future. Successful participants will be notified via e-mail. Details of the Playstation 3 beta will be made available at a later date.
There will be multiple rounds of beta testing, with the number of participants increasing with each one. It is not necessary to re-apply for each round; your original application will remain valid throughout. We advise you to only apply once, because if you are found making multiple applications you will be denied access to the beta.
To participate in the beta, you must fit these minimum requirements.
* Be at least 18 years of age.
* Possess a Square Enix ID account; available
here
.
* Possess an internet connection.
* Be capable of downloading large amounts of data.
* Be capable of submitting bug reports in either Japanese, English, French, or German.
To apply for the beta you will need to go to the following page:
http://entry.ffxiv.com/
Source:
FFXIV.com