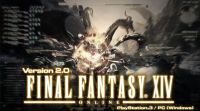 In a shock announcement, Square Enix have released what is quite possibly the biggest news since FFXIV's release back in September 2010. The news that the game is being redeveloped and version 2 is in the works, due for release a year from now. With it will see a complete UI overhaul, a new graphics engine and a new game client. The PS3 version will also be released with version 2 and a second free trial period for the PC players.
There is a lot of information regarding this announcement and the company has released four PDF documents full of information on the changes. Not all of the changes will be held off until version 2 however, with content to look forward to for current players until then. A monthly fee will be implemented in December this year shortly after patch 1.20 as Square Enix feel the game is at a point where it is worth paying for. The full details of the announcement are below.
"Allow me to thank you all for your continued interest in FINAL FANTASY XIV.
One year has passed since the game's release, and despite the disappointment surrounding its launch, we have received a wealth of support from you, the players. Your encouraging words and continued loyalty have been a source of immeasurable inspiration to everyone involved with FINAL FANTASY XIV's development.
In the ten months since the FINAL FANTASY XIV team's restructuring, we have put forth the utmost effort into not only improving the game's existing features, but also creating a concrete plan to outline the game's new direction. Today, I am pleased to announce we can confidently present that plan to our customers. We fully realize this is but a single step towards our ultimate goal, and that to meet the high standards set in the plan, more time is required. In the meantime, however, we will not waver in our commitment to bringing players exciting and engaging content, even as the game moves through its evolution.
With this, it is my hope that we will continue to receive your support as we will need to bring the unbilled period to a close between late November and early December 2011, and introduce our subscription-based billing system. I appreciate that this decision will not be popular, but it is a necessary step in building upon the foundation our fans and development team have made together and to realize the full potential of FINAL FANTASY XIV.
The team will stop short of nothing as they move towards realizing the new FINAL FANTASY XIV, and as they do so, I humbly ask for both your understanding and support.
President and CEO, Yoichi Wada
An Announcement from the Development and Operations Teams
This is an announcement for all of you playing FINAL FANTASY XIV, for all of you who have stopped playing, and for those of you looking forward to the PlayStation®3 system version. A year has passed since FINAL FANTASY XIV service began, ten months of which came in the wake of major organizational changes to the development team. As promised when those changes were first made, we have been working diligently towards bringing you a new FINAL FANTASY XIV. Today, I would like to tell you more about that, while also laying out details regarding the release of the PlayStation®3 version, explaining fundamental reforms planned over the next several years for the game in general, and sharing with you some of the results yielded by our efforts so far.
Conclusion of the Unbilled Period and Commencement of Subscription Billing
The unbilled period has remained in place for the past year as our development and operation teams of over 250 staff have worked to bring you FINAL FANTASY XIV. I apologize for the belated nature of my next announcement, but as significant updates to the game have been released over the last ten months, a portion of the team has also been simultaneously devoted to working solely on the new FINAL FANTASY XIV. This is an essential part of the process of realizing the ideal we have envisioned. Planning for the new FINAL FANTASY XIV began in January of this year, and April saw the start of large-scale tasks. Since then, however, we have made no compromises in the game's operation and updates. I believe this is evident if you review the contents of the updates that have been released thus far.
Every resource possible has gone into this year's patches. The ideal that we have for FINAL FANTASY XIV, however, is extremely high, and we are aware that all of the following changes are still required to achieve the desired quality of service—redesign and restructuring of server layout and operation, overhaul of the user interface, reworking the design and specs of in-game areas, and vast upgrades to the player community systems.
As we move closer towards this ideal, and as the operation of the game, the regular updates, and the development of the new FINAL FANTASY XIV continues, we will introduce our subscription-based billing system.
Following the results of the development and operations teams' efforts, together with the release of the overall plans for the game's future, we will bring the unbilled period to a close between late November and early December of 2011, and thereafter introduce our subscription-based billing system. Further details will be sent to the email address players submitted at the time of their FINAL FANTASY XIV account registration, and will also be posted on the Lodestone at a future date.
Needless to say, with the onset of the subscription-based billing system, operation and development of the game will proceed, and updates will continue to be released regularly as they have been. Between now and release of the new FINAL FANTASY XIV, we will do as much as possible by way of fine-tuning the game and adding new content. Our focus will be on the theme of a story that can only be experienced in the here and now, and the dramatic changes to Eorzea will be incorporated into that storyline. Each update will deliver an unprecedented and unrepeatable game experience. For those of you continuing to play, I promise that the release of these updates and the eventual transition to the new FINAL FANTASY XIV will both come smoothly and seamlessly.
In order to enable us to provide you with an ever-improved FINAL FANTASY XIV that meets all of our high ideals, I ask for both your patient understanding and cooperation.
Temporary Suspension of Automatic Renewals for the Subscription-based Billing System
Anyone who has played FINAL FANTASY XIV at any time since its release is already in possession of a FINAL FANTASY XIV service account. These accounts are set to renew their subscriptions automatically, barring deactivation by the account holder. Therefore, if we were to begin regular subscription billings for all existing contracts, players who will not see this announcement or who may not currently wish to pay subscription fees would automatically begin to be charged for their accounts. To avoid this, we have decided to first suspend all automated renewals for service accounts. Only account holders who have agreed to reactivate the automated renewal system will be billed.
Many of you have enjoyed FINAL FANTASY XIV over the past year, growing accustomed to the service we have in place. I realize that this is a terrible inconvenience, but we very much hope that you will continue to enjoy the game. I can only ask for your understanding that we are determined to allow all users an equal opportunity to reach their own decision regarding subscription-based billing. Details regarding precise scheduling will be announced at a later date, as will the official start of the subscription fees.
The New FINAL FANTASY XIV and the PlayStation®3 System Version
Between October and December of 2012, we plan to integrate the current service and the coming PlayStation®3 version into the all-new FINAL FANTASY XIV. At this time, a second free trial period will also be offered.
Among our new plans is the fundamental reworking of in-game maps. As part of this process, there will be a period required for switching over to a new client and new servers, after which there will be a large transfer of data when service is brought back online. After the new client is completed, new software for the PC version will be distributed online, and can be acquired free of charge. Character data and progress for players already playing the PC version will also be preserved, allowing those players to continue using their in-game avatars. Another announcement will be made in the future as the day on which the new FINAL FANTASY XIV software will become available for download draws near, and the PlayStation®3 system version officially released.
A New Decision from the Development Team
As previously stated, it has been over ten months since the development team underwent significant changes. I apologize that we have been so long in announcing to all of you the overall future plans for FINAL FANTASY XIV. But I assure you that all of us here on the operations and development teams have been putting all our energy into FINAL FANTASY XIV. We have tackled unprecedented challenges maintaining the unbilled period, the frequency and scale of patches, and an open line of communication with the player community—all while completely remaking the game at the same time.
Again, I have included several files detailing the plans and progress we have made, as well as our future schedule. I hope those of you with interest will take the time to look over them.
We will no longer be referring to the "new organization" of the team. It is now simply the FINAL FANTASY XIV team. We are prepared to advance to the next stage of FINAL FANTASY XIV's life, confident that we can provide a service worthy of the FINAL FANTASY name─a service that includes both content-rich updates and the renovation of existing features─and take full responsibility for all that entails.
I promise that we will continue to give all FINAL FANTASY XIV players our full attention as we do everything in our power to provide a high-quality service, and as such, would like ask for your continued encouragement and support.
As always, everything we do will be for our players and customers."
New Final Fantasy XIV Roadmap
New FINAL FANTASY XIV Outline
[1.4MB]
New FINAL FANTASY XIV Planned Content & Concept Art
[4.7MB]
New FINAL FANTASY XIV System & Content List
[0.2MB]
New FINAL FANTASY XIV Development Roadmap
[0.5MB]
Source:
Lodestone