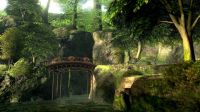 Today comes a few announcements from Square Enix. There's a new Final Fantasy XIV trailer, information on the open beta and information on transferring your character name from the open beta to the retail version of the game.
New FFXIV Trailer
The trailer shows many scenes from the opening movies of Limsa Lominsa, Gridania and Ul'dah as well as scenes from elsewhere. There is even some battle footage towards the end. The game's theme song that we mentioned last night called "Answers" can be heard in the first part of the trailer.
The Open Beta
The open beta is scheduled to being on September 1st at 2am GMT, which is August 31st at 7pm. We were expecting it in early September but not quite this early! There is still no information about how players will gain access to the open beta but we know everyone who participated in the closed beta will be sent a code to access it.
The beta website states that during the initial stages of the test there will be a limit on the number of players allowed to be logged in at any one time. This will be gradually increased. If you attempt to login when the limit has been reached you will be placed in a waiting list.
We will let you know how to gain access to the open beta as soon as we know. It's worth keeping an eye on the official Twitter page to find out instantly.
Transferring Character Names to Retail Version
There will be the ability to transfer your character name from the open beta to the retail version of the game. This is useful if your name is something popular like "Sephiroth Cloud" and you fear someone else may take it before you. You will be able to reserve the name on the same server that your open beta character is on. For example, if you play the open beta on Sephiroth server your name will only be transferable to the Sephiroth server in the retail version.
There is nothing to stop you creating a character with your beta name on a different server, it just won't be reserved for you and if someone else has reserved it on that server then you will not be able to use it.