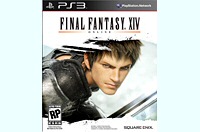 Final Fantasy XIV has appeared on the American Playstation website as a Greatest Hits title. Normally games are only released as a Greatest Hits game after they have been released, when it has proven to be a popular title and sold well. We don't know whether this was intentional or a mistake but it would be surprising for a game to be sold as a Greatest Hits title from the beginning. In the UK, we have the Platinum range of games which is the equivalent of Greatest Hits. However we don't have any indication of such a release.
Perhaps Square Enix are hoping to sell the game at a lower price to gain more subscribers and get them hooked on the game. It's a good strategy as it allows players to get a taste of the game without spending lots of money and subscriptions are where the bulk of the profit is with an MMORPG. Or perhaps it is a mistake and it will be taken off soon, we simply don't know.
Regardless, we have the first indication of what the game's front cover art will look like on the Playstation 3. Unfortunately we don't have a larger version than the one below.

Source:
Official Playstation Website