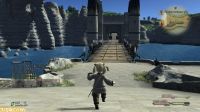 Famitsu have once again interviewed the leading developers of Final Fantasy XIV, giving us some details about how the alpha testing is progressing. A summary of the interview is below, with a full write-up available at Zam via the link at the bottom.
The developers have stated that the game world available in the current alpha phase is only 10% of what will be available in the final version of the game, with the game currently around 65% complete. Testers are experiencing some problems with server stability and login issues but the situation is improving with every test. The cause of the issue seems to be the high number of people trying to login to the servers at once.
The testers are providing a high level of feedback and suggestions about features and controls and it appears more feedback is coming from the North American and European regions than the Japanese region, despite there being the same number of testers in each region. The feedback will be used to improve the game before release. The developers feel feedback is important as they may have overlooked issues themselves.
The developers have not been able to say when the alpha phase of testing will end but they have stated that they have two options for the speed of character growth and plan to wipe all characters at some point and test the other one. Presumably they will use the findings to decide which one works best. At the end of the current alpha phase there will be more testers added.
Source:
Zam