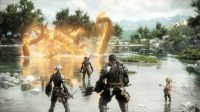 The Dengeki magazine had an interview this week with the developers of Final Fantasy XIV. Information about the beta and all of the classes was released. Some of which is already known but there is still a lot of new information.
There is no point me writing up the Q&A myself when a great article already exists at FFXIV Core so we recommend you go there via the link below and read the full Q&A.
We can however confirm that the alpha has not yet started, but the alpha/beta website went live on the 11th. Unfortunately I did not receive an invite!
Article:
FFXIV Core