Yesterday, Square Enix added three new screenshots to the European Final Fantasy XIV official website. This was in error and soon after they were taken down. Most likely the company are planning a site update in the near future and these were due to be part of it. You can see the screenshots below or in our screenshot gallery.
Click on the screenshots for a larger version.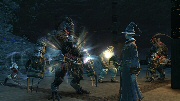 In the first image, it is speculated that this could be Final Fantasy XIV's version of Ifrit, but we can't be sure until further details are announced. The other two show combat.
Source:
Blue Gartr Linkshell Forum