Posted by Xenor Vernix on Jan 24, 2010 - 13:24.
If you are looking for THE FASTEST WAY to reach the level cap with any class or job within 7 days, this FFXIV Leveling Guide by Killer Guides is a definite must have! It comes with step-by-step leveling tips, quest walkthroughs, detailed primal battle strategies, extensive dungeon guides, and more.
[Advertisement]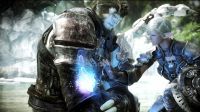 Last week there was a new interview with Japanese gaming magazine Dengeki. A small amount of new information became available about various aspects of the game, but nothing big. Still, some news is better than none.
One interesting thing we learned is that classes other than Disciple of Magic may be able to cast spells. In Final Fantasy XI, we had classes such as the Paladin and Dark Knight who could do this, but it remains to be seen how Final Fantasy XIV will implement this feature.
For those wondering about the beta, there is still no news as to when it may start, but the interview states that only certain areas of the game will be available to play in the beta. This means even beta testers will have something to look forward to in the final version.
If you wish to read the full translated interview, head over to ZAM by clicking the link below, where Elmer has translated the Japanese interview.
Source:
ZAM
0 comments | |