Posted by Xenor Vernix on Mar 09, 2010 - 18:17.
If you are looking for THE FASTEST WAY to reach the level cap with any class or job within 7 days, this FFXIV Leveling Guide by Killer Guides is a definite must have! It comes with step-by-step leveling tips, quest walkthroughs, detailed primal battle strategies, extensive dungeon guides, and more.
[Advertisement]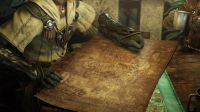 Final Fantasy XIII was released today in areas outside of Japan and it came with a Final Fantasy XIV promotional code. The code allows you to register your copy of Final Fantasy XIII and gives access to two Final Fantasy XIV related things.
The first is a secret in-game item for Final Fantasy XIV, but no one knows what this will be. The second is a chance at gaining entry into the PS3 beta for the game. One thing to note however is that if you sign up for the PS3 beta via this code, your previous beta application will become invalid.
Source:
FFXIV Beta website
3 comments | |