Posted by Xenor Vernix on Jun 12, 2010 - 03:10.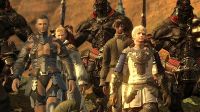 We'd like to take the opportunity to mention that E3 is less than a week away. Yes, it really has been a year since FFXIV was announced. Time has flown since then and we have learned so much about the game. We will be reporting all of the new Final Fantasy XIV information from the event as soon as we can.
The producer of FFXIV, Hiromichi Tanaka will be at E3 so we are sure to have something new to look forward to. Rumour has it there will be a new trailer, with the screenshot below coming from a preview that Famitsu had access to.
3 comments | |