Paladin (PLD) Abilities, Traits, Combos and Cross Class Skills
If you are looking for THE FASTEST WAY to reach the level cap with any class or job, this FFXIV Leveling Guide by Killer Guides is a definite must have! There is nothing that comes even close in regards to level of detail and overall quality.
[Advertisement]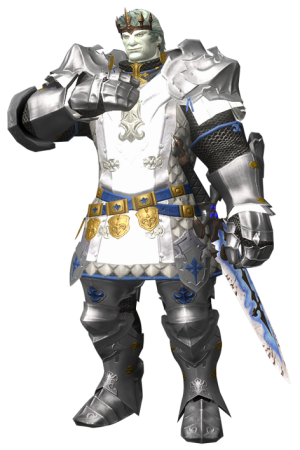 The elite of the Sultansworn bend the knee to the sultanate of Ul'dah, swearing a solemn oath to serve the nation as its sword and shield. Clad in brilliant silver armor and called paladins, these men and women were once the pride of the nation, held in high esteem by nobles and smallfolk alike.

But their glory days are no more, for as the sultanate's power waned, so too did the prestige of the paladin. They are now but a shadow of their former selves, and the sultana must needs turn to sellswords for protection.

In these troubled times, command of the Sultansworn has fallen to a young paladin named Jenlyns. Desperate to restore their honor, he has resorted to recruiting outsiders and training them in the legendary battle arts of the paladin, once a closely guarded secret.

Patch 1.21 saw the introduction of jobs to FFXIV, which allows you to become one of the traditional jobs from the FF series after completing a quest.
A
Gladiator
can become a Paladin by equipping the Soul of the Paladin item after completing the first quest. The details for this quest are below.
| | | | |
| --- | --- | --- | --- |
| Quest | NPC | Location | Conditions |
| Paladin's Pledge | Lulutsu | Ul'dah Merchant Strip, Gladiators' Guild | GLA 30, CNJ 15 |
* Quest giver/name may be incorrect (1.23 info), conditions have been updated for ARR.
For each quest you complete, you will be rewarded with a new ability, while the latter quests will also reward you with artifact (AF) armour that is shown in the screenshot above. Below is a list of abilities that the
Paladin
job can equip to their bar and select to use at any time as long as their timer is available.
As a Paladin you should be focusing on
VIT
as this increases HP, as well as
STR
and
DEX
for block and parry. For more info on how to play Paladin see our
Paladin Guide
.
Abilities
Abilities are actions that the
Paladin
can equip to their bar and select to use at any time as long as their timer is available. Actions used in a combo will generate additional damage and effects. All Paladin actions are exclusive to that job.
Name
Level
Cast
Recast
MP
TP
Range
Radius
Sword Oath
30
0
2.5
266
0
0y
0y
Increases the potency of auto-attacks by 50.
Cannot be used with Shield Oath.
Effect ends upon reuse.
Cover
35
0
120
0
0
10y
0y
Take all physical damage intended for another party member. Can only be used when member is closer than 10 yalms.
Duration: 12s
Shield Oath
40
0
2.5
366
0
0y
0y
Reduces damage received by 20%, while lowering damage dealt by 20% and increasing enmity. Cannot be used with Sword Oath.
Effect ends upon reuse.
Spirits Within
45
0
30
0
0
3y
0y
Delivers an attack with a potency of 300. Potency decreases as HP decreases.
Additional Effect: Silence
Duration: 1s
Hallowed Ground
50
0
420
0
0
0y
0y
Renders you impervious to most attacks. Duration: 10s
As well as these the Paladin can also equip Gladiator abilities.
Cross Class Abilities
In FFXIV: A Realm Reborn it is possible to use some abilities from other classes providing you have unlocked them on that class. You can then equip them on your Paladin no matter what your level.
Name
Level
Cast
Recast
MP
TP
Range
Radius
Class From
Cure
2
2
2.5
133
0
30y
0y
CNJ
Restores target's HP. Cure Potency: 400
Additional Effect: 15% chance next Cure II will cost no MP.
Duration: 15s
Foresight
2
0
90
0
0
0y
0y
MRD
Increase defense by 20%. Duration: 20s
Skull Sunder
4
0
2.5
0
60
3y
0y
MRD
Delivers an attack with a potency of 100.
Additional Effect: Increased enmity.


Combo Action: Heavy Swing
Combo Potency: 200
Grants Wrath when used with Defiance. Duration: 30s

Fracture
6
0
2.5
0
80
3y
0y
MRD
Delivers an attack with a potency of 100.
Additional Effect: Damage over time.
Potency: 20
Duration 30s (Duration 18s below level 28)
Protect
8
3
2.5
266
0
30y
15y
CNJ
Increases the physical defence of all party members within range of target.
Duration: 30m
Bloodbath
8
0
90
0
0
0y
0y
MRD
Converts 25% of physical damage dealt into HP.
Duration: 30s (Duration 15s below level 20)
Raise
12
8
2.5
798
0
30y
0y
CNJ
Resurrects target to a weakened state. (Cannot be used when in combat until level 28.)
Mercy Stroke
26
0
40
0
0
3y
0y
MRD
Delivers an attack with a potency of 200. Can only be executed when target's HP is below 20%.
If delivered as the killing blow, up to 20% of your maximum HP will be restored.
Stoneskin
34
3
2.5
399
0
30y
0y
CNJ
Creates a barrier around target that prevents physical damage totaling 18% of target's maximum HP. (10% until 36)
PvP Actions & Traits
PVP actions and traits are skills which can only be used in PvP battles. They can be purchased using Action Points (AP), which is earned via fightng in PvP battles. In general there are three potencies of each action and you can upgrade them by spending more AP on them. For more on PvP, visit our
PvP pages
. For a Paladin we recommend you go for Vitality with the traits.